VACTE students, teacher honored at SkillsUSA national event
Originally Published: July 3, 2022 12:44 a.m.
COTTONWOOD – Students from Valley Academy for Career and Technology Education were among those honored at the 2022 SkillsUSA Championships in Atlanta. And an instructor was presented with a new, prestigious award.
Dominic Rezzonico, a 2022 graduate of Camp Verde High School, received a Skill Point Certificate, demonstrating his workplace readiness in cabinetmaking. The Skill Point Certificate can be added to an employment portfolio, proving his proficiency by meeting a threshold contest score for his event, according to a news release from SkillsUSA.
Madison Mathis, meanwhile, who graduated this year from Mingus Union High School, earned a bronze medal in her event – firefighting.
The championships were June 22-23, with competitors honored June 24. The SkillsUSA Championships is the largest skill competition in the world and covers 1.79 million square feet, equivalent to 31 football fields or 41 acres.
Students were invited to the event to demonstrate their technical skills, workplace skills and personal skills in 108 hands-on occupational and leadership competitions including robotics, automotive technology, drafting, criminal justice, aviation maintenance and public speaking.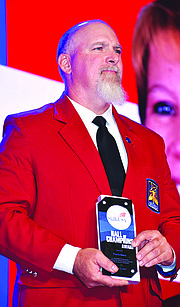 VACTE's construction instructor, Travis Black, received the SkillsUSA Hall of Champions Award during the conference.
According to the organization, the new honor recognizes those who have dedicated their lives to helping youth develop the components of the SkillsUSA Framework in personal, workplace and technical skills grounded in academics, the skills necessary to be successful in a changing world. Hall of Champions candidates were nominated by a state SkillsUSA director, a current or past SkillsUSA board member or other leaders or stakeholders. Nominations were accompanied by up to five letters of support that demonstrated the nominee's breadth and depth of impact on youth development within the SkillsUSA Framework.
"Travis is a SkillsUSA champion with a true passion for helping youth develop the Framework components of Personal, Workplace and Technical Skills grounded in academics that empower every student to achieve career success," said SkillsUSA Executive Director Chelle Travis. "His dedication to SkillsUSA and to career and technical education is inspiring."
Black, who has 20 years of on-the-job experience in construction, has been at VACTE for five years and was instrumental in the initial planning and development of the program's curriculum, shop design, classroom safety protocols, equipment and teaching resources. He puts his students on real-life construction projects, taking them to a job site once a week where they work alongside adult workers and foremen while Black supervises and instructs.
Black trains and certifies his students in the operation of rough terrain forklift, aerial boom lift, skid steer, front end loader and scissor lift and these industry certifications allow the students to begin construction-oriented jobs at a higher level of pay. Black takes the placement of his students into the workforce seriously. His curriculum includes job site safety, framing, drywall, electrical, plumbing, masonry, and heavy equipment operations.
A crucial part of his curriculum is the effective way he teaches employability skills and incorporates the SkillsUSA Framework into his lessons. When a guest enters Travis' classroom, they are greeted with an introduction and handshake by every student. Black expects the students to show up on time, be respectful, work hard and be professional when they work with each other and when meeting perspective clients/employers.
The students' community projects purposefully align with SkillsUSA Framework components - personal skills, workplace skills and technical skills. Black's VACTE construction program SkillsUSA chapter has earned the Arizona Models of Excellence chapter designation for the past four years and was a Models of Excellence winner in workplace skills at the national level in 2021.
During this year's SkillsUSA championships, industry leaders from 650 businesses, corporations, trade associations and unions planned and evaluated the contestants against their standards for entry-level workers. Industry support of the SkillsUSA Championships is valued at over $36 million in donated time, equipment, cash and material. More than 1,100 industry judges and technical committee members participated this year.
"More than 5,200 students from every state in the nation participated in the 2022 SkillsUSA Championships," Chelle Travis said. "This showcase of career and technical education demonstrates SkillsUSA at its finest. Our students, instructors and industry partners work together to ensure that every student excels. This program expands learning and career opportunities for our members."
SUBMIT FEEDBACK
Click Below to: