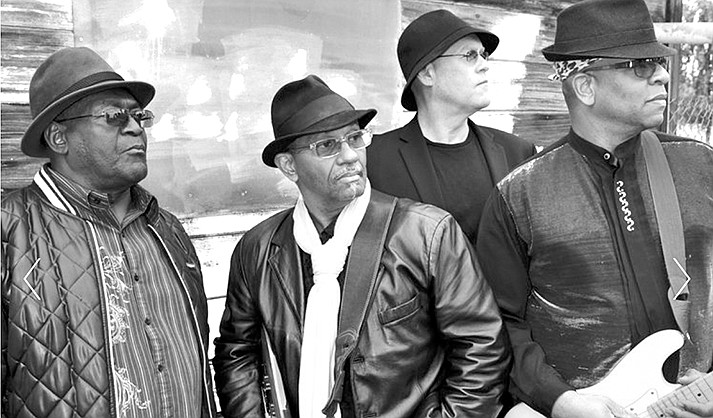 ---
---
For those who love the blues, Sound Bites Grill has a special treat lined up, featuring Bluesman Mike & The Blues Review Band, playing Saturday, July 9, from 7 to 9 p.m. in the Sound Bites Celebrity Showroom.
This national act brings home the Blues with original tunes that touch the heart and get you up and dancing. The blues are musical stories that can make you happy and sad at the same time and this band has got it down.
Bluesman Mike and the Blues Review Band, longtime performers in the Phoenix area, find themselves in top form with their latest CD "Knee Deep into These Blues."
Their fourth self-produced album features 13 tracks (four originals and nine covers) with robust instrumentation and storytelling power. Their music has a lot of soulful flavor, like a hearty fall stew or a good book. It's comfort food that fills you up.
Now, we can listen to them live and watch them play on the Soundbites stage, up-close-and personal. This is one show you Blues aficionados out there just don't want to miss.
On Friday, July 8, from 6 to 9 p.m., Sound Bites Grill features a "blast from the past" with 3MKi: Susanna Martin, Patrick Ki, Eric Miller and Robin Miller.
It's been a while since this powerhouse quartet has taken the stage and now that the pandemic is behind us it's pedal-to-the-metal for these four extremely talented musicians.
Eric and Robin Miller are local recording artists with numerous albums under their belt. This father and son team meld effortlessly together to create beautiful music everyone loves.
Patrick Ki is a regular performer at the club and is a virtuoso on the guitar and ukulele while Martin is revered for her beautiful voice and vivacious performances. The band is known for its three and four-part harmonies and plethora of classic rock selections.
Soundbites also hosts Patrick Ki on Wednesday, July 6, from 5 to 8 p.m.; Chill on the Hill featuring Eric Miller and Adrial Zang on Thursday, July 7 from 6 to 9 p.m.; and Patrick Ki once again on Sunday, July 10. From 5 to 8 p.m. 
Sound Bites Grill is located at the Shops at Pinon Point adjacent to the Hyatt in Sedona. For more information please visit SoundBitesGrill.com or call 928-282-2714. Tickets can be purchased via website. 
Submitted by SBG.