New signs coming to a trail near you
By Annie Glickstein, Friends of the Forest and Linda Pallas, Sedona Red Rock Trail Fund
Originally Published: June 1, 2022 12:50 a.m.
When you are on a trail, you know how important it is to have good signs. The best start is to "Know Before You Go," and then follow the trail markers, allowing you to have a wonderful adventure and get back home safely with photos and good memories.
Sedona Red Rock Trail Fund (SRRTF) has successfully raised funds to improve and update trail signs throughout the Red Rock Trail System. New carsonite trail signage is currently being fabricated and will be installed throughout the Trail System in 2022-24. You might notice them popping up at more and more trails.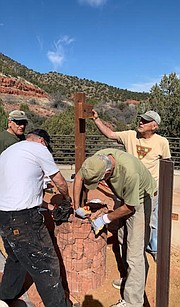 Financial support for new trail signage has been generously provided by various sources: grants from the Arizona Community Foundation of Yavapai County and Sedona; Safety and Environmental Education Grant by the Arizona State Parks and Trails awarded to the Verde Valley Cyclists Coalition for trail signs, coordinated with SRRTF; Sedona Westerners Hiking Club; Langston Family Foundation; and various charitable individual donors. You might have been one of our important donors.
Installation support for the new trail signage comes from sweat equity by partners and volunteers, such as Friends of the Forest (FOF). Installation of the maps and kiosks will continue to be accomplished by a mix of Forest Service trail crew members and FOF volunteers. You might be one of the FOF volunteers!
Recently, FOF members completed installation of a new display at the Red Rock Ranger District Visitor Center. When visitors stop by to get maps and information, they can now view – and learn from – the "Trail Signs" display right in front of the entrance, near the javelina statue that was donated by the FOF. 
The display project began when Ernie DiMillo had an idea: "Why not build a display and put it where visitors can view it and learn before they go?" Forest Service enthusiastically approved the project and Ernie recruited FOF Trail Maintenance & Construction volunteers to assist him.
Ernie first recruited Rich Spinelli, who is the "sign guy" at FOF. Every time we report a missing sign, broken sign, or bad sign, Rich goes out to investigate and resolve the issue. Next, he recruited Jeff Maust and Rod Cashin known as the "cairn building" experts. The four of them jumped in and got the project going.
They collected supplies: wire for the cairn basket, lumber for the signpost and signs, carsonite and stickers for the directional sign, FS sign showing what usage is authorized on the trail, spray paint for the white blazes on the slick rock. 
It takes about two hours to build a proper cairn. The wire is measured and formed into a cage. Each wire end is twisted to keep pointy ends away from anyone who may walk by. While two volunteers twist wires (there are a lot of them), another two volunteers go and harvest rocks. Harvesting rocks is an art. You need to find enough wide flat rocks that can go around the edges to form the walls. It becomes a giant game of Tetris (addictive puzzle game to create order out of chaos), fitting the pieces together. The post is held in place in the center as other larger rocks are placed in the center to secure it tightly. A level is placed on the top and sides of the post as the cairn continues to take form. When you look at places where you see these beautiful cairns, notice if there are other rocks around. There are so many times when we build these that we have to go hiking with rock bags to carry back the necessary quantity back to the building site.
Types of signage
Maps with text indicating trails.
Carsonite signs with arrows marking the trail.
Cairns – stacked rocks that mark the route of a trail.
Blazes – trail markers to help hikers follow a route on slick rock.
So why don't you take a stop by the Red Rock Ranger District Visitor Center and take a look at the sign display. It has a new "sign" with it too that describes the various types of signs to watch for when hiking. 
SUBMIT FEEDBACK
Click Below to: