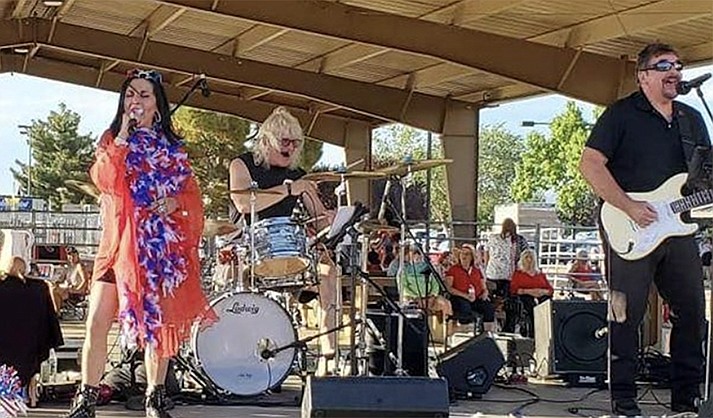 ---
---
Friday, June 24, from 6 to 9 p.m., Sound Bites Grill is proud to present Hit Squad 17, featuring Lucy Hill, on vocals.
This band is serious about making music that gets people out of their chairs, up and dancing.
Rock solid, this band hits the high notes and brings new energy into songs classic rock lovers dig so much.
Led by lead singer Lucy Hill, the band rocks through dance, funk, rock, pop and R&B tunes, laying down the beat one needs to get down.
Joined by Joe Serrato on guitar, Dru on the bass, and Scott Henderson on drums, the band melds into a high-energy musical entertainment machine.
On Saturday, June 26, from 6 to 9 p.m. Sound Bites Grill hosts Scandalous Hands, a fusion rock band that knows how to rock, playing music from The Beatles, Steely Dan, Allman Brothers Band, Led Zeppelin, original tunes and more.
This four-piece band plays contemporary versions of rock standards, taking them to unfamiliar new heights as they jam out into the stratosphere. 
Featuring explosive solos and infectious grooves, this is one band you want to see up-close-and-personal -- and no better place to see them than on the Sound Bites Celebrity Showroom stage.
Their live performances are impeccable, and their coverage of classics is unique and inspiring.
What makes this band stand out are the sharp harmonies that ring over the music, so one can hear every word of the songs as they were intended to be listened to.
The band exhibits excellent volume control and can shift from a whisper to all-out-load hard rock in an instant.
Sound Bites Grill also features Patrick KI on Wineaux Wednesday, June 22, from 5 to 8 p.m.; Chill on the Hill from 6 to 9 p.m. on Thursday, June 23; and jazz master Dave Len Scott on Sunday, June 26 from 5 to 8 p.m.
Dinner is now being served from 5 to 8 p.m.
Sound Bites Grill is located at the Shops at Pinon Point adjacent to the Hyatt in Sedona. For more information please visit SoundBitesGrill.com or call 928 282 2714. Tickets can be purchased via Website. 
Information provided by SBG.