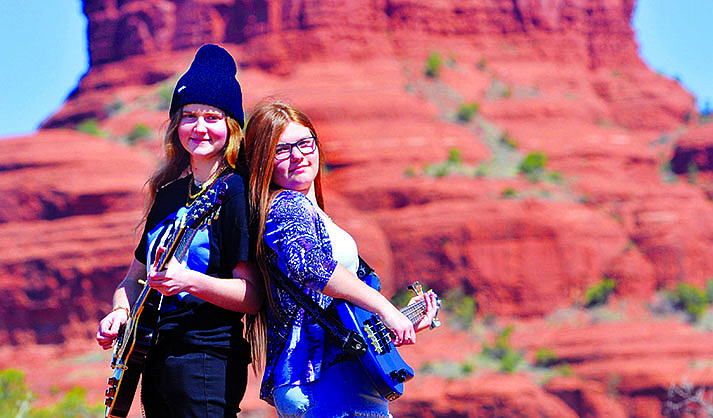 ---
---
Sedona multi-instrumentalist sister duo Gracie, 16, and Tivona Moskoff, 13 are thrilled to announce their newest venue at the Flagstaff Station Market Cafe located at 1800 North Fort Valley Road on Sunday, July 3, from noon to 2 p.m. for a patriotic and Americana set of songs plus a few moving originals.
After visiting Mudshark Recording Studio in Fort Valley to begin recording singles, to be released soon on streaming services, Gracie and Tivona stopped by the café to inquire about a gig. One phone call later, a date was booked.
If you're in Sedona, then take a break from the heat and enjoy a beautiful ride up to Flagstaff.  And if you're a Flagstaff local or visiting, come celebrate Independence Day Weekend with patriotic music and experience a cute and lovely cafe with scrumptious fare and a variety of beverages described as "Fuel for the Soul" in comfortable indoor seating as well as multiple outdoor patios while listening to the "soothing, calming moods," these two young women create, as described by writer Jason W. Brooks in Kudos. 
So please come see and hear Kaleidoscope Redrocks for a two-hour musical journey spanning over 200 years of songs celebrating America. Singing in harmonies only sisters can create, Gracie and Tivona demonstrate their seasoned musical talent playing guitars, ukulele and piano in this intimate setting among the pines.