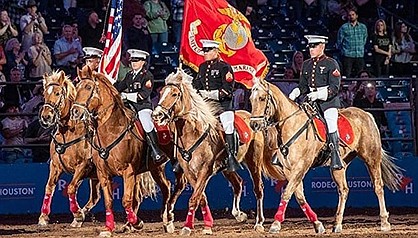 ---
---
March 25 from 9 a.m. to 3 p.m., the first Verde Valley Stand Down will take place at the Cottonwood Recreation Center and Garrison Park.
The event is held in memory of James David Warfield, USMC, who had family ties to Flagstaff and the Verde Valley. It is a community project of the Military Order of the Purple Heart "Dale E. Crick" Chapter793 and Northern Arizona Veteran Stand Downs in cooperation with Marine Corps League Detachment 1176 and Verde Valley Veteran Service Organizations.
According to the Arizona Veterans StandDown Alliance, a Stand Down event is "a community-based resource fair where organizations come together to provide to serve veterans and their families by connecting them with critical supportive services to help them gain and maintain housing stability. "Stand Down" is a military term that refers to the brief period of time given to a soldier to leave an active combat area in order to rest and regain strength before returning to battle."
A Dedication Ceremony will be held at 11 a.m. at the Verde Valley Military Service Park located at 100 S. Brian Mickelson Parkway adjacent to Garrison Park. The ceremony will feature the Marine Corps Mounted Color Guard out of Barstow, California. An official 50th Anniversary pinning ceremony for Vietnam War & Vietnam era veterans will follow the dedication.
Garrison Park will also have outdoor displays for "Vet Fest" and "The Great Outdoors" promoting quality of life activities for Veterans. Inside Cottonwood Recreation Center there will be hot meals provided to participants and a Veterans Resource Fair. There will also be a The Job Fair to help introduce Veterans to local employers & employment opportunities.
Resources provided at the Stand Down will also include hygiene and first aid kits, clothing and surplus supplies, community services information, dental, vision and medical assistance, haircuts, VA enrollment services, Veterans' court, VA mobile Vet center, pet food and pet care, notary, housing support services, disability, improved pension & survivors benefits, blood donor drive, COVID testing and vaccinations and alcohol and substance abuse counseling.
The Verde Valley Stand Down is funded in part by the Arizona Department of Veterans' Services and promoted in cooperation with the Arizona Veterans StandDown Alliance.
For more Stand Down Information, contact John Davison at verdevalleystanddown@gmail.com or 928-286-7446.
Cindy Cole is a freelancer for the Independent. She is a writer, editor, photographer and artist. Reach her at cindycole@live.com.