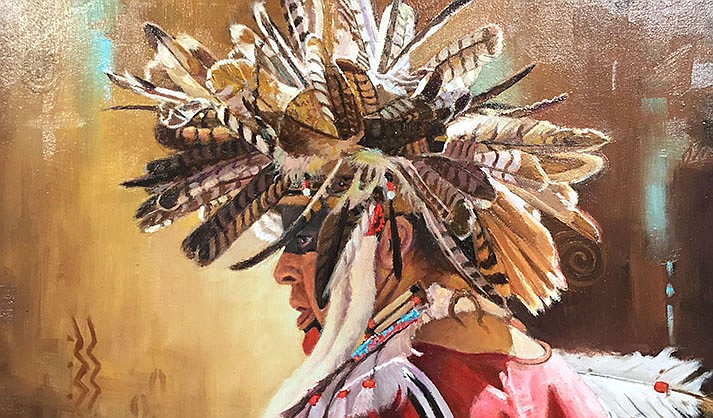 ---
---
Mountain Trails Gallery presents "Storytelling in Sculpture & Painting" featuring artists who are passionate narrators, recorders, and raconteurs in their chosen medium.
The month of April is a time for new work, new surprises, and a renewal of art that serves to uplift. Delightful highlights to be celebrated include sculpture artists who are adept at narrating the tale by using twists and turns of their 360-degree bronze to reveal the story as it unfolds.
Also, the figurative and still life artists shine a light on the details of their story with color, texture, and light to give vital clues; and the more subtle storytellers are the landscape artists who bring the inner awareness of beauty to the front and center as the most important thing for them to tell. The new exhibition opens on Friday, April 1, with a reception from 4 to 7 p.m.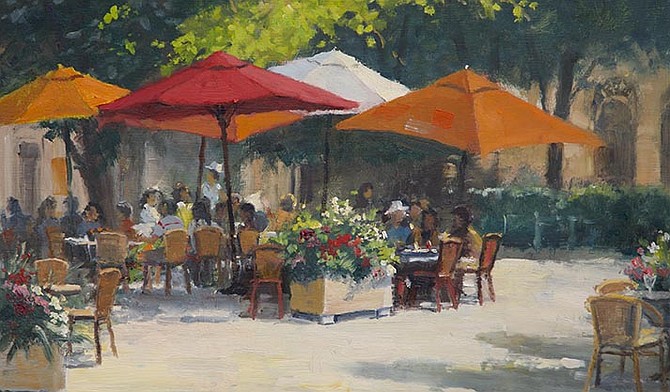 Prominent storytelling artists in sculpture, painting, and mixed media have helped to made Mountain Trails Gallery a destination for a wide variety of traditional as well as contemporary fine art. The Artist-in-Residence program brings art lovers, collectors, and other visitors into the studio/gallery to meet these creatives who share not only the stories they are telling, but also the techniques that make the artists masterful with visual 'voices' about what is being told. Sedona sculptor Susan Kliewer, whose ranching experience as well as long-time relationships with the Navajo and Hopi people, continues to share her heartfelt stories and experiences, and that has brought a remarkable following to the gallery as does her award-winning work. Another distinguished Western sculptor Deborah Copenhaver Fellows brings her rodeo, ranching, and equestrian experiences to light. Her action figures create movement and direction, and if there is any question about what the artist is conveying, her titles complete the story and make the artist's experience unmistakable. The outstanding bronzes of Gary Lee Price are filled with uplifting stories of success and reasons to strive to reach new heights of education, athletics, and spirited activities. Also, the multi-talented Michael Trcic tells his bronze stories with a passion for those who exhibited remarkable characteristics of courage and valor, often changing the course of history.
Storytelling in painting and mixed media work by numerous award-winning artists are also compelling reasons for visiting Mountain Trails Gallery. All the deep, complex, and fascinating Native American history of the past as well as the present is a passion for artists Sue Krzyston, Lisa Danielle, Vicki Catapano, and Cheri Cappello who tell their stories with awe-inspiring techniques. All their colorful beadwork, brain-tanned buckskin, translucent pottery slips, feathered dancers, ceremonial objects, and more make history come alive for the viewer in their paintings and materials. Wholehearted ranching stories by Shawn Cameron bring the past to the present as this artist continues to paint the life genuinely lived by multiple generations, including her own.
One of the delights of wildlife artists at Mountain Trails Gallery is their storytelling ability with the variety of animal behavior in their painting and sculpture. Some work shares the artist's observation with a touch of surprising humor and some with the full-blown ferocity of animal nature. Sculpture by Jeremy Bradshaw, Raymond Gibby, Mark Edward Adams, and Bryce Pettit covers this range of intention with captivating techniques and styles. Paintings by wildlife artists bring an uplifting spirit to the gallery's offerings from the whimsical oils by Jennifer O'Cualain, to the beloved and regal nature of horses by Maria D'Angelo, to the charming birds and mammals of Sandra Byland, Adele Earnshaw, and Joe Garcia.
More subtle storytellers include still life as well as landscape and cityscape painters who ask that the viewer come into the work with a willingness to see the nuances of color, light, and shadow, as well as technique. The experience can be a gradual unfolding of the presence of life or a sudden realization of the sublime. Following the clues from a richly painted surface quality to a contrast of light and shadow to layers of translucent color can direct one from the outer nature of things to the inner unfolding of the joy of life itself. From thick juicy paintings by Greg Dye, Susanne Nyberg, and Jim Hagstrom, to the intricately rich plein air paintings of Betty Carr, Richard Boyer, Joshua Been, Bill Cramer, Cody DeLong, Simon Winegar, and Susie Hyer, to elegant oils with layers of contemporary brush work by Marcia Molnar, Gregory Stocks, and Michelle Condrat, all these artists are passionate about their story. Form and content play out in an interactive fashion with the landscape paintings of Tamara Rymer. Instead of starting with a statement about the story, this intriguing artist asks the questions first, and leaves the conclusion to the viewer: "What might this abandoned building tell? "Who lived or worked here? Why did they leave?" and more.
From the abstract nature of a sunset to details of cowboy etiquette spelled out in a title, artists have a fascinating range of stories to share. Mountain Trails Gallery Sedona invites all to participate in "Storytellers in Sculpture & Painting" during the reception on First Friday, April 1, 4-7 pm or throughout the month of April at their upstairs location, Suite A201, overlooking the Patio de las Campanas in Tlaquepaque.
928-282-3225
fineart@mountaintrailssedona.com
MountainTrailsSedona.com
Instagram #mountaintrailssedona
Facebook @MTGSedona
Information provided by Mountain Trails Gallery.