Upper Cathedral Rock Trail reopens after extensive reconstruction
By Linda Pallas, Sedona Red Rock Trail Fund
Originally Published: May 1, 2022 12:35 a.m.
After extensive and intensive reconstruction work by the Forest Service, Upper Cathedral Trail – 0.4 mile from the trailhead up to Cathedral Saddle, between the spires – is now open.
Originally scheduled for closure through April 30, Forest Service finished this phase of work early so the trail was opened on April 8.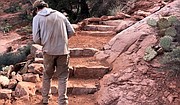 The Forest Service Red Rock Ranger District closed the trail for public safety due to the inability to safely reroute hikers around the work area, which included the trail itself and the 200 feet of land on either side. During construction there were issues of large rocks rolling downhill due to steep terrain.
Cathedral Rock Trail was chosen for renovation because of the severe erosion occurring over time.

Kevin Kuhl, Trails/Wilderness/OHV Coordinator, states "Although a large portion of this trail is on steep slick rock and provides a unique hiking experience, there are numerous portions that pass through erosive bands of soil that have become increasingly damaged over the years due to erosion. The work we identified for this project will continue to help blend the beauty of hiking across Sedona's famous red slick rock with intricately placed rock work to help increase the sustainability of this iconic trail."
Work on Upper Cathedral Rock Trail was considered essential to address erosion damage from numerous storms over the years and multiple "social routes."
Sedona Red Rock Trail Fund helped support this important project by conducting a community wide fund drive and the community rallied. A portion of the project was funded from the Great America Outdoor Act of 2020, but it did not cover everything.
The Sedona Red Rock Trail Fund partnered with the Forest Service on the project to complete the technically challenging rock armoring and masonry sections of the work. The Trail Fund paid for trail professionals who assisted with design, training of youth crew and construction related to technical rock work.
The technical aspects of Cathedral Rock Trail were aided by special trail consultants from Summit to Sea Trail Specialists, LLC, who had experience and expertise with such conditions. They assisted Forest Service staff in building sustainable structures known to diminish erosional impact on steep, rocky terrain.

Kuhl states, "Summit to Sea has a wealth of experience and the availability to evaluate those trail needs such as rock retaining walls and check steps utilized to stabilize highly erosive soils in the tread and the surrounding terrain along the trail corridor.  It was a great opportunity to utilize their professional crew in assisting with the planning and implementation of this project.
"Their experience is derived from years of working in National Parks and building similar style trail structures like those needed on the Cathedral Rock trail."
Cathedral Rock Trail is a place like no other in Red Rock Country and presented challenges for moving equipment up the trail to accomplish the work each day.
Forrest Gale and Tommy Cogger, consultants with Summit to Sea, state, "In our experience in the southwest we would compare this style/technique and caliber of trail building to what you find on the Grand Canyon trails. 
"All of the equipment is hauled up by hand and on the backs of the trail workers and a rock dolly.

"Additionally, we used large 80 liter climbing packs typically used to carry rope and gear on climbing trips, to carry five-gallon water jugs (weighing over 60lbs) to the project site each morning. The water is used to keep dust down and protect our lungs when using electric and gas saws to cut/split rock into a more manageable size. 
"Retaining walls are intended to raise the trail tread to a more sustainable grade and retain rock crush and dirt which are the main ingredients to trail tread. Without retaining walls, the tread would be much more vulnerable to being washed away during the monsoon season. 
"When possible, water bars and or French drains will be placed at the top of a rock staircase to divert water off the trail and limit damage caused by water erosion."
According to Kyle Robb, Trails Foreman, Forest Service, Cathedral Rock Trail Reconstruction Project is being approached in four phases:
Phase 1 – Lower section (parking to Templeton) Nov 2021
Phase 2 – Middle section (Templeton to slick rock climb) Dec 2021
Phase 3 – Upper Section (Slick Rock to switchback staircase) March/April 2022
Phase 4 – Upper Section (Switchback staircase to end of trail) Feb/March 2023
Trail Work Seasons run generally from October through April. Now that work is paused on Cathedral Rock Trail for this season, trail crews are working on projects in Oak Creek Canyon and Red Rock Secret Canyon Wilderness.
Sedona Red Rock Trail Fund will support Phase 4 by providing funding not covered by other sources.
---
-
SUBMIT FEEDBACK
Click Below to: