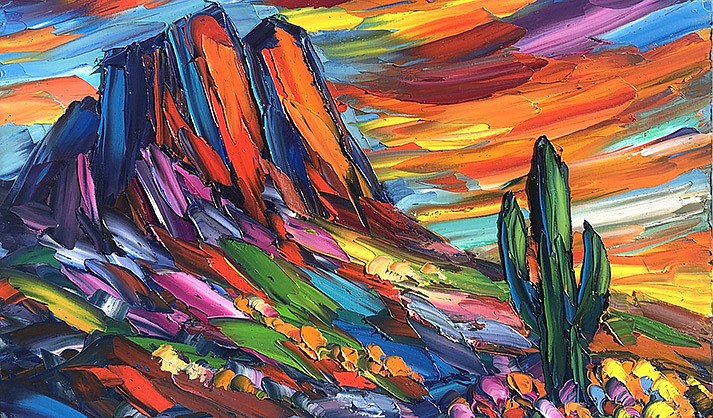 ---
---
The exhibit opens with a reception on Friday, May 6, 4-7 p.m., and continues throughout the month of May. Featured in the exhibition is a group of traditional and contemporary artists who find inspiration in the unique sights, sounds, and history to be found in the West, especially landscape artists who revel in the wide-open spaces, rolling hills, dramatic canyons, rivers, streams, and secret hideaways as they each bring beauty into so many lives.
Arizona artist Susanne Nyberg begins the morning with the most spectacular glow the deserts and canyons have to offer, and often captures the moment the sunrise bathes the land with an almost magical sense of light. Her rich colors, complex textures, and ephemeral light appear in her most recent painting "Desert Splendor" which is an important centerpiece of the new exhibition.

Julie R. Williams, director of Mountain Trails Gallery, asked Nyberg to speak of her success at this year's Desert Caballeros Western Museum exhibition Cowgirl Up!, an invitational series of events with 60 of the top artists from the West.
The gallery is delighted to present a variety of sizes of desert landscapes by this notable artist.
Honors and awards come to many of the gallery's artists who love to look West at all the unique opportunities for visuals and expression. Colorado artist Susie Hyer, an avid hiker and exuberant plein air painter, was recently honored by her alma mater for her lifetime achievement and success as an artist.
The top award for two-dimensional art at this year's Cowgirl Up! exhibition went to Mountain Trails Gallery artist Lisa Danielle for her intensely complex Native American-inspired still life painting of treasures and artifacts with the theme of faith and family.
Arizona painter Linda Glover Gooch is another spirited painter who loves the outdoors and especially the Grand Canyon. Her intensely subtle and poetic paintings reveal her ebullience as she works the canvas from light to dark and back again. The buildup of layers of color and luminescence invites the light to be the carrier wave of the seen and the unseen.
Numerous Grand Canyon and beyond paintings make this exhibition sparkle, including dynamic and colorful paintings by Sue Krzyston, Marcia Molnar, Michelle Condrat, Cody DeLong, Joshua Been, Gregory Stocks, Simon Winegar, and more. An award for first place in the recent Plein Air Salon went to Utah artist Richard Boyer for his remarkable cityscape painting, and multiple awards from shows and exhibitions throughout the West continue for Arizona plein air painter Bill Cramer.
The gallery is proud to exhibit work by a group of distinguished artists recently added to the gallery's family including Shawn Cameron, Tamara Rymer, Greg Dye, Jeremy Bradshaw, Sue Krzyston, as well as Susanne Nyberg.
Mountain Trails Gallery Sedona, located at 336 SR 179, upstairs Suite A201 in Tlaquepaque, is proud to exhibit work by their more than 50 extraordinary artists working in painting, sculpture, and mixed media fine art, as they all contribute to make this gallery a destination for collectors, enthusiasts, and visitors from all over the world. For more information contact the gallery at 928-282-3225, fineart@mountaintrailssedona.com, www.mountaintrailssedona.com, Instagram at #mountaintrailssedona, Facebook @MTGSedona.
Information provided by MTG.