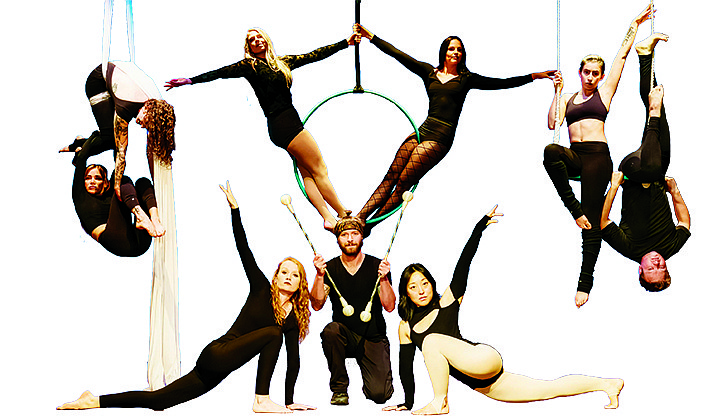 ---
---
'Ephemera' is a captivating, enthralling evening of aerial dance, acrobatics, modern dance, martial arts, and flow arts, unfolding on and high above the stage at Old Town Center for the Arts in Cottonwood Nov. 11 and 12 at 7 p.m.
This multi-media event will be a stunning array of aerial arts, colorful lighting, evocative music and sound.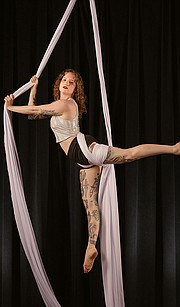 "Ephemera" is created by Hydrangea Sky Movement Arts, a company of diverse artists in Northern Arizona, performing high-flying stunts on aerial silks, corde lisse (rope), trapeze, lyra, aerial chains, sling, and straps; transitioning into the grounded movement arts of Kung Fu, Tai-Chi, modern dance, acrobatics, and Poi spinning.
Exploring the space from floor to air, through dynamic movement, each act is woven into a cohesive storyline that summons ethereal elements – the intangible and the profound – that connect us all. "Ephemera" explores the dichotomy of time and memory being at once fleeting and eternal; juxtaposing the graceful and the primal, the groundedness on earth and the limitlessness of atmospheric space.
For this special event, several guest artists will be joining the staff, including James Ball as lighting designer, John Compton as stage manager, with special thanks to aerial rigging consultant Greg Fishell.
This debut full-length show of Hydrangea Sky Movement Arts dance company is the first show of its kind to be presented at Old Town Center for the Arts. To get a glimpse and preview of Hydrangea Sky Movement Arts dance company please visit: hydrangeasky.com.
Doors open at 6 p.m. for a special viewing of visual artist Marrin Robinson's mixed media landscape paintings on display at OTCA. There is no charge for viewing Marrin Robinson's exhibit, but those wishing to stay for the performance will need to purchase concert tickets.
Tickets for "Ephemera" are $25 in advance, $28 at the door, and $30 priority seating and $35 VIP. Tickets for this special event are available online at showtix4u.com or in Cottonwood at Mount Hope Foods and Mysterium, and In Sedona, you can find tickets at The Mary D. Fisher Theater. For ticket prices and more information about these and other upcoming events, visit oldtowncenter.org, or call Elena Bullard at 928-634-0940.
Learn more at hydrangeasky.com.