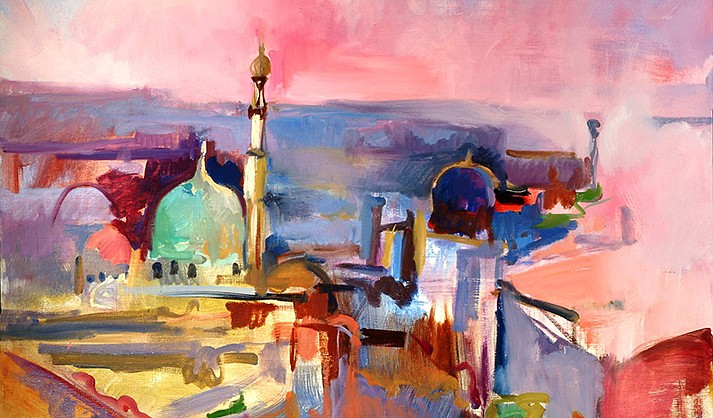 ---
---
The Old Town Center for the Arts presents "Light Across Time," a collection of abstract oil paintings by local artist Marrin Robinson.
Robinson's work is inspired by the landscape. She starts by working on site drawing in ink, then adding watercolor and pastel to capture the essence of the scene in front of her. The works she creates on paper are taken into the studio and become the inspiration for her larger, more abstract oil paintings.
If You Go ...
• What: "Light Across Time": An Exhibit of the Work of Artist Marrin Robinson
• When: Opening Friday, Nov. 11, 6 p.m.
• Where: Old Town Center for the Arts, 5th Street & Main, Cottonwood
• How Much: Old Town Center for the Arts, 5th Street & Main, Cottonwood
• More Info: 928-634-0940, oldtowncenter.org
Robinson feels that while the work starts from landscape, it is more about a state of mind than a geographic location.
From 1987-2011 Robinson taught art at colleges and universities in the United States and abroad, including as associate professor at The Colorado College, Marlboro College in Vermont, at Smith College and seven years at The American University in Cairo, where she started the major in art while she was unit head.
From 2011-2017 she worked as an advisor to the art students at Kansas State University. And from 2017-2021 as advisor at the Herberger Institute of Design and the Arts at Arizona State University.
Robinson served artist residencies at The American College of Greece; The University of Hawaii, Hilo; The Ragdale Foundation and a Fulbright Grant to paint for a year in Portugal. Her work has been exhibited in Egypt, Greece, Portugal, and the United States including Boston, Chicago, Colorado Springs, Hilo, New York City, and in St. Louis. She has been represented by the Strecker Nelson Gallery in Kansas and at Vermont Artisan Designs in Brattleboro, Vermont.
Robinson's "Prairie to Sea" was a solo exhibition that was put on at AVA Gallery in Lebanon, New Hampshire, and a smaller version in the Fountain Gallery at Wailoa Center for Creative Arts in Hilo, Hawaii, in 2015. 
Robinson says of her travels, "While I currently am inspired by the red rocks of Sedona, which I can view from my studio window, I am very grateful for the opportunities I have had to travel to create series that range from the ancient city of Petra, Jordan, to the monasteries in Meteora, Greece, and the lakeside palaces in Udaipur, India. The little desert town of Siwa in Egypt and the Badlands in South Dakota, while separated by continents, have a similar allure for me. Natural beauty is the inspiration for my work, but the paintings do not depict a location but rather an experience."
Come see the unique work of Marrin Robinson. Doors open at 6 p.m. There is no charge. Those wishing to stay for the performance of "Ephemera" by Hydrangea Sky Movement Arts will need to purchase performance tickets.
For more information visit oldtowncenter.org.