ATHLETE OF THE WEEK: Erica Graves
Originally Published: November 20, 2022 1:07 p.m.
Erica Graves
Age: 17, Senior
From: Camp Verde
Sport: Volleyball
Position: Middle Hitter and Blocker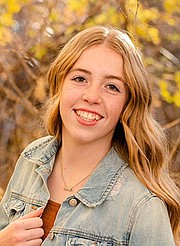 Highlighted Season Stats: Volleyball: career stats of 408 kills, 55 total block, and 12 solo blocks
When did you get your start in sports?
I started playing in the 8th grade
Who's your hero or role model?
My role model isn't really a person but rather my future self. I always think about the person I could be and how I can make my family proud and that's what drive me to do the best I can in the moment, because I know that I'll never get to that point of being that person because I am always striving for the future potential that I can hold.
Where do you hope to be in 5-10 years?
In five to ten years, I hope to be a home interior designer and I hope to start a family. Those two things have been my dream for as long as I can remember.
Who is your favorite professional sports team?
My favorite professional team is probably NAU Volleyball because they were my very first team I ever got to watch in person. I remember when I got to meet some of the players and it made me want to play volleyball even more, and to try to be like them.
-
SUBMIT FEEDBACK
Click Below to: