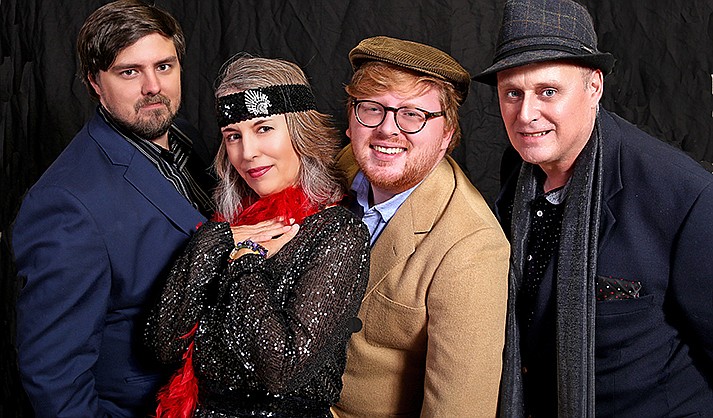 ---
---
Producer Camilla Ross has announced that the Emerson Theater Collaborative (in the Collective Sedona, Village of Oak Creek) will present F. Scott Fitzgerald's beloved classic "The Great Gatsby" by Joe Landry.
The playwright's spirited adaptation developed for the stage (with a musical score by Kevin Connors) brings the iconic novel to life, with a group of local actors presenting "The Great Gatsby" as a live radio station broadcast, punctuated by World War II-era commercials.
Directed by Ashley Adelman and presented through special arrangement by Playscripts, this production tells the story of triumph and tragedy that reflects the decadence of the Jazz Age and the perils of the American Dream. The cast, featuring residents of Sedona and the Verde Valley, includes James Yaw, Matt Egan, Jon Capozzoli, Cathy Ransom, Audrey Young, Stephen Hanks, Jordan Olquin, Joan Westmoreland, Cheryl Good Zavagno, Emma Genessee, Anastasia Serednyj, Cassie Mavis, Melinda McElroy, Linda Glinsky, Craig Schneider, Terra Shelman, and Kathleen Francis.
Videography provided by Jason Polansky and Dustin Stienstra of SEDONAUAS. This production is sponsored by The City of Sedona, and The Arizona Commission on The Arts.
"The Great Gatsby" at the Arts Academy of Sedona's luxurious black box theater, 7000 SR 179, STE C-100, will be presented on Friday and Saturday, Dec. 2 and 3, at 7 p.m. (in-theater only) and Sunday, Dec. 4 at 2 p.m. (in-theater and live-stream/audio only available).
In-house ticket prices (choose your seats with the new AAS seating map): Advance/Reserved Seating-$55 (sit at table with your friends/family, drink tickets available and table service); Advance/Reserved Table-$165 (reserve an entire table of three for your friends/family, drink tickets available and table service); Advance-$35; At Door-$45. To purchase in-house tickets, go to bit.ly/the-great-gatsby-2022.
Can't see the show in the theater? Listen from home via the Live Audio Stream of the Dec. 4, 2 p.m. show for $20; tickets at bit.ly/etc-gatsby-on-demand.
The Arts Academy of Sedona hopes all attendees for the performances of The Great Gatsby will celebrate the holiday season by bringing new, unwrapped toys we can contribute to the Toys For Tots program.
Arts Academy of Sedona is a not-for-profit educational and cultural community center committed to innovating and creating art in all forms, and to bringing our programs to local Sedona residents and visitors. Contact us at: The Collective Sedona, the Village of Oak Creek, 928-288-2258.