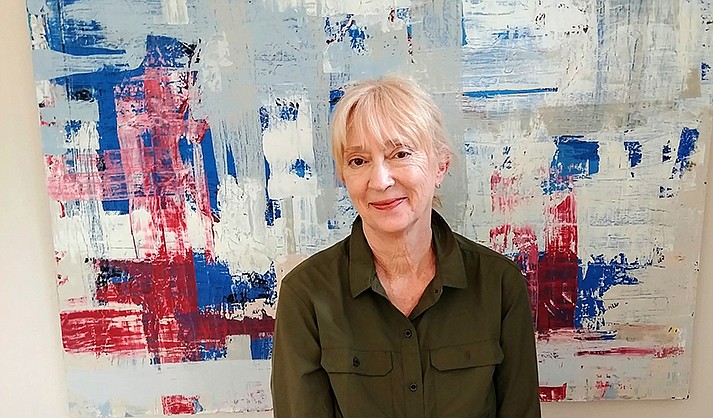 ---
---
You are invited to experience the distinctive work of Lynn Haygood Lee this weekend at the 31st annual Sedona Arts Festival at booth E2.
What you will find are large contemporary paintings that are entirely unique – from how Lynn applies paint to canvas, to her color palette, to her interpretation of the stunning landscape. This national juried arts festival runs Oct. 8 and 9, 9-5 p.m. on Saturday and 10-4 p.m. on Sunday, at the Sedona Red Rock High School at 995 Upper Red Rock Loop Road in West Sedona.
An adult ticket price of $15 provides youth art scholarship and arts education funding in the greater Sedona area.
Lynn's techniques have evolved over years of daily practice and experimentation in the studio.  
"I moved to Sedona from Napa Valley to pursue several interests and was astonished to find myself painting professionally, something I had never aspired to do, and suddenly found myself consumed with learning. That is the surprising and generous gift of Sedona."
Non-objective work appeals to her most, allowing both her own and the viewer's interpretation of the subject.
Painting and creating to Lynn are more than an exercise in developing an idea and composing it in a medium. She immerses herself directly into a work not knowing what will emerge.
"As I work," she says, "there is an intimate connection and participation with the source of all creativity, the same source that connects each of us to one another and to all of life."
Whether it is the flowing water of Oak Creek, the clear high desert air, the minerals in the geology, the timeless dark evening skies, or some alchemy of all of these, Sedona continues to be a source of inspiration to her.
Works from her current Sedona Pentimenti Collection explore the essence and spirit of the Sedona area landscape. In addition to this weekend's festival, these works can be seen at the Fine Art Gallery at the Sedona Arts Center. To learn more about the artist, please visit lynnhaygoodlee.com.