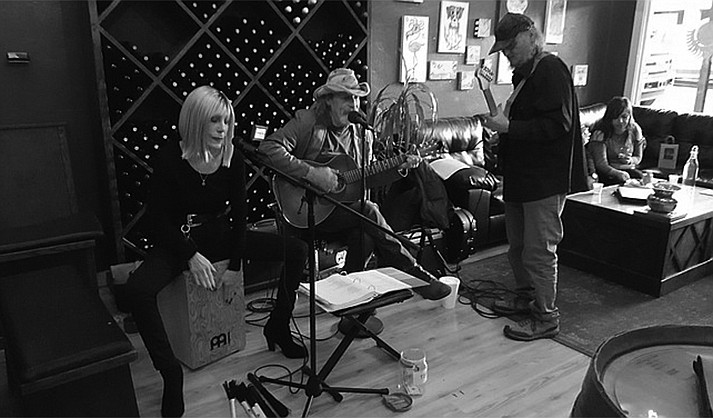 ---
---
10-12 Lounge
910 Main St., Clarkdale
928-639-0800
1012Lounge.com
Thurs 4/6 5pm Mark & Julia
Sat 4/8 2pm Toucan Eddy
Sun 4/9 CLOSED FOR EASTER
Tues 4/11 5pm Walt & Dave
Apotheca
Next to Synergy through Herbs store
2301 W. SR 89A, Suite 105, West Sedona
928-325-4080
SedonaApotheca.com
First Fridays Jazz Showcase at Apotheca
Fri 4/7, 7pm - The First Friday Sedona Jazz Showcase at Sedona Apotheca April 7th features vocalist Kerina Wachara and local jazz artists across the Northern Arizona area. The Jazz Showcase and Jam Session is an opportunity for creative expression and musical improvisation within the community. Show at 7:00 PM with Jam Session following at 8:30 PM.
Tickets can be purchased as eventbrite.com/e/sedona-jazz-session-performance-tickets
Mooney's Irish Pub
671 AZ-179, Sedona
928-282-2331
mooneysirishpubsedona.com
Open every day for lunch at noon. Always 21 and over only - Late night menu available
Wed 4/5 Magic Night Men Dancers & Dj Split Cell (8:30-11:30pm)
Thurs 4/6 Karaoke By Allstar (9pm-1am)
Fri 4/7 The Well Dressed Wolves (9pm-1am)
Sat 4/8 Dj Ill Ego (9pm-1am)
Mon 4/10 Karaoke By Allstar (8pm-12am)
Oak Creek Brewing Co.
2050 Yavapai Drive, Sedona
928-204-1300
OakCreekBrew.com
Thurs 4/7 The Doug Johnson Band (6-9pm)
Fri 4/8 Sister & The Sun (6-9pm)
Sat 4/9 Gester (3-6pm)
Old Corral Bar
11375 E. Cornville Road, Cornville
(928) 649-9495
Fri 4/7 - 1st Friday Latin Nite 10pm - 1am
Sat 4/8 - Room Zero 7-11pm
Sun 4/9 - NAZBA Blues Jam 2-5pm
RedWall Lounge
2130 Shelby Drive, Sedona
928-554-1033
Open Thurs-Sun 4-10pm.
Thurs 4/6 The Salt Miners (6:30-9:30pm)/ Cigar Night
(Specialty & RedWall Cigars available, RedWall cigars are infused with our Bourbon and whiskey & barrel aged)
Sun 4/9 Easter Day - Closed
Vino Di Sedona
Wine & Beer Store/Bar/Kitchen
2575 W SR 89A
West Sedona
928-554-4682
VinoDiSedona.com
Wed 4/5 Paint Along For Fun 11:30-2; Chris Counelis, Saxophone 6-9
Thurs 4/6 Open Mic hosted by Dan Rice 6-10
Fri 4/7 Tommy Hussey, Acoustic Rock 3-6; The Rice Brothers, Country & Classic Rock 7-10
Sat 4/8 Wine Tasting w/ music by Ed Amash 3-5:30; Life Is Beautiful, Rock Band 7-10
Sun 4/9 Him & Me, Acoustic Rock 6-9
Tues 4/11 Tim Young, Acoustic Rock 6-9
MUSICIANS
Alive n Kikin
Fri., 4/7, 5-7 pm, DA Vines Vineyard, 706 N. Main St., Old Town Cottonwood
Christy Fisher
Wed 4/5: The Hilton Resort- Sedona 7-9
Thurs 4/6: Cottonwood Village 3-4
Fri 4/7: Cove Mesa Vineyard- Cornville 4:30-7:30
Sat 4/8, 5- 8pm - Cove Mesa Vineyard, Cornville
Sun 4/9: Ciao Bella Restaurant - Prescott Valley 4-7:30
Michael Peters
Thur. Apr 6, Alcantara Vineyards, 12:30-4:30 pm, 3445 S Grapevine Way, Cornville
Fri. & Sat. Apr 7 & 8, 6-9 pm, Stagecoach Country Roadhouse, 1405 W State Route 89A, Sedona
Sun. Apr 9, Oak Creek Art & Crafts Show, 11 am-3 pm, Los Rosales Mexican Food, 1655 W State Route 89A, Sedona
Toucan Eddy
Sat 4/8 from 2 to 6pm at the 10/12 Lounge, 910 Main St. in Clarkdale