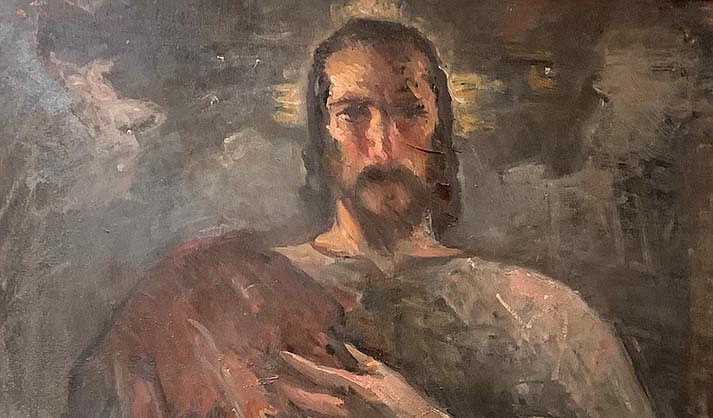 ---
---
An art/history exhibit entitled 'Gino Parin and the Holocaust,' is being held through April 28 in the Clara M Lovett Art Museum at Northern Arizona University in Flagstaff (open Tues-Sat; noon-5 p.m.). The exhibit is sponsored by NAU's Martin Springer Institute, founded over 20 years ago through an endowment from a holocaust survivor who resided in Flagstaff. Its studies focus on the holocaust and other genocides, with the objective of improving current responses to conflicts within society through promoting values of moral courage, tolerance, empathy, reconciliation, and justice.
The NAU exhibit focuses on the complicated life of Gino Parin, an internationally recognized artist of Jewish ethnicity who lived in Trieste, Italy during the late 1800s and early 1900s. Despite many honors, possession of a Swiss passport, and importantly, his conversion to Catholicism in 1897, these failed to protect him when the Nazi forces occupied Trieste at the end of WWII. Parin was arrested by the Gestapo and sent to Bergen-Belsen concentration camp, where he died in June 1944, several months prior to Anne Frank. While Parin was best known as a portraitist (he was commissioned by the King and Queen of Italy to paint their portraits just prior to WWII), the artist also produced several Christian religious paintings, some presented at the NAU exhibit. These belonged to a Trieste-born, late resident of Cottonwood, Necki Springer, who was a friend of Parin. Mr. Springer brought his Parin collection to the Verde Valley, following his retirement to Cottonwood with his wife, Liana, in 1978.
The exhibit reviews Parin's complicated life during complicated times for Jews in Trieste; presents several Parin paintings, including an extraordinary painting of Christ, thought to be his last, in which the artist appears to have embedded his angst through several somewhat hidden images; and explains how Parin's works came to reside in Cottonwood. It represents two years of research by faculty and students affiliated with NAU's Martin Springer Institute.
In the next two years, construction of a 'Galilean Peacemaker Gallery' is planned on grounds of Immaculate Conception Catholic Church grounds in Cottonwood. This will house the above and additional works by Parin and others. Its mission, and linked presentations, will be to foster peace and brotherhood.