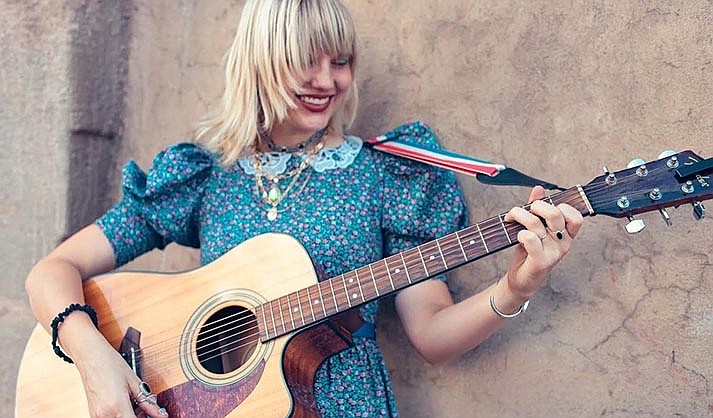 ---
---
The Jerome Chamber of Commerce will present their second Art in the Park celebration Saturday, April 29, from noon to 5 p.m. in Jerome's upper park. Jerome has long been recognized as an arts community and 16 professional artists will be the primary attraction and entertainment for the day as they demonstrate their creativity.
Mimi Romberger drew quite a following at our last show. She has focused on oils and acrylic painting recently, while still working in watercolors, ceramics, and mixed media. She was a major pioneering figure in the digital art and design evolution in California, creating characters, animations, and interactive interfaces for the first Atari Mario Brothers game (particularly appropriate now, with the new movie), working with Atari, Accolade, Apple, Sega of America, Lucas Learning, and Cisco Systems. She has a studio and shop in Jerome.
Richard Faye is a painter and sculptor based in Clarkdale. He particularly focuses on figures, shapes, and forms. He combines physically seeing and touching a subject with his imagination in creating his works. His goal is to have his creations experienced as well as seen.
Self-taught Jerome artist Damian Gomes works primarily in oil and acrylic. The abstract figurative painter's works tend toward macabre, sensual, and darkly comic human images.
Jason Voss is a local artist whose artwork calls upon Jerome's past from the day it was called the "Wickedest Town in the West" by the New York Sun in 1903. He shows glimpses into the period's drinking, gambling, prostitution, and murder during the mining town's boom period.
That's just a few. There will be Kids Tables, too, with Michael Harvey and Michael Gallagher, who will be teaching kids character drawing. Michael Gallagher is well known for writing hundreds of comic books. He wrote the first issue (and many more) of Sonic the Hedgehog. He designed several front and back covers and wrote articles for MAD Magazine and did many "Spy vs Spy" gags. He did three years of Guardians of the Galaxy and more. He has lived in Jerome since 2009.
Music will be provided by Dani Boots, starting at noon, and The Invincible Grins, starting at 3 p.m. Food will be provided in the park by the Green River Hot Dog Stand. And, if you really want to have some fun, we will have two "Bad Portrait" stations to benefit the Jerome Humane Society. People who are not artists will do bad portraits of guests with proceeds going to the humane society. Join us for a fun day in the park.