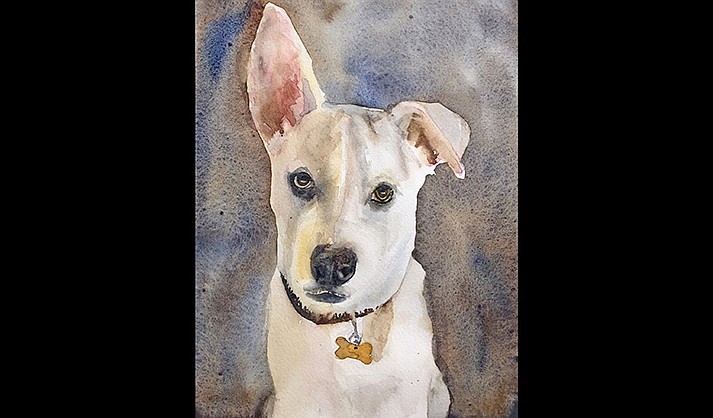 ---
---
Sedona artist Sandra Beck has an uncanny knack for capturing the personality of animals. Her watercolor style, which is best described as a cross between realism and impressionism, is perfect for her sought-after pet portraits. Learn Sandra's tips for successful commissioned portraits and her tricks for painting your own beloved animals on Friday, April 28 at 9 a.m., at the Sedona United Methodist Church on 110 Indian Cliffs Road in Sedona. This educational program is being sponsored by the Northern Arizona Watercolor Society (NAWS), a regional non-profit watermedia art association with members from Flagstaff to Prescott.
"When I do commissions," said Sandra, "I usually look at the photo for several days to get the personality of the pet, since I usually have never met the pet. The subjects of my pet portraits are usually a dog, but occasionally a cat or a pet rabbit. Once I get a feeling for the personality, I do the drawing and start with the eyes -- the window to the soul. I know that I have achieved my objectives when the owner of the pet cries when they see the painting."
Sandra has studied with many nationally and internationally known artists and traveled the world painting. As a result, her award-winning work is in collections in the United States, England, Canada, and France. She is a juried member of the Northern Arizona Watercolor Society (NAWS) and has been a popular watercolor teacher in the Valley since 2010. "When I meet someone who wants to learn watercolor painting," says fellow NAWS member Lisa Pracchia, "I always refer them to Sandra for small-group painting lessons. As a teacher, she has a patient and encouraging way of working with beginners that enables them to flourish." Visit SandraBeckArt.com to learn more.
Founded in 1995, NAWS has about 150 members who meet monthly to celebrate watermedia painting. These meetings typically feature informative learning topics and artist demonstrations. Additional membership benefits include access to exceptional quality workshops, participation in smaller critique groups and an extensive DVD loan library of painting technique videos. NAWS welcomes visitors to its monthly meetings. For more information about NAWS, please visit NAWS-AZ.org or email your NAWS-related questions to NAWSMembershipJoy@gmail.com.