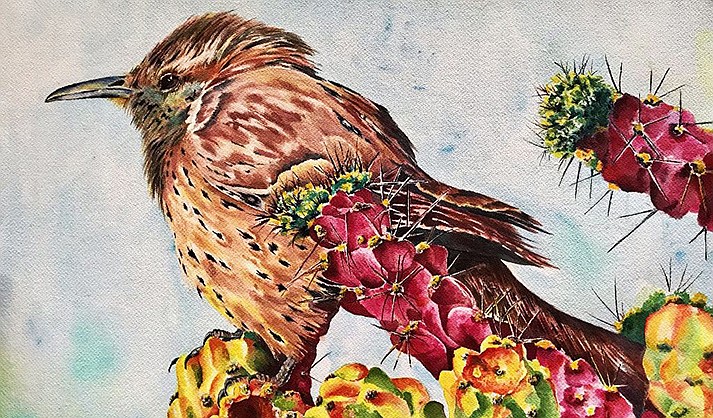 ---
---
Old Town Center for the Arts is pleased to present Hydrangea Sky Movement Arts' Unfurl, a multimedia performance which will dazzle the eyes and mesmerize the ears across three showings: Friday, April 28, at 7 p.m., and Saturday, April 29, at 2 p.m. and 7 p.m. Fans of Cirque du Soleil and anyone who has found themselves breathlessly taking in the grandeur of Mother Nature are sure to enjoy themselves at this concert.
Before You Go...
What: 'Unfurl' by Hydrangea Sky Movement Arts at OTCA
When: Friday, April 28, 7 p.m., Saturday, April 29 2 p.m. and 7 p.m.
Where: Old Town Center for the Arts, Fifth Street & Main, Cottonwood
How Much: $30 Advance, $32 Door, $35 Priority Seating
More Info: OldTownCenter.org or call 928-634-0940
Unfurl is Hydrangea Sky's full-length spring show following the intricate and interwoven lives of plants and elements of the natural world. It will feature a full ensemble cast (13 artists) performing aerial dance (silks, trapeze, corde lisse, aerial chains, stage pole, lyra), martial arts (Tai Chi and Kung Fu), club juggling, grounded dance (modern dance, belly dance), and acrobatics (Cyr wheel, stilt-walking).
Each movement artist will embody a range of flora and fauna, elements, and seasons, moving in a dynamic way to represent the essence of each while telling its story in newly imagined and creative ways as live musicians craft an all-original soundtrack.
The Moving Order Band, consisting of all-star musicians William Eaton, Allen Ames, Claudia Tulip, and Logan Turner, will accompany the movement arts unfurling on and high above the stage.
Each showing of 'Unfurl' will feature a special one-hour artist exhibition prior, showcasing the original works of local professional visual artists Gretchen Lopez (oil painter, watercolorist, plein air) and Debra Williamson (watercolorist), each of whom have created themed works for Unfurl. The exhibition of visual art will include oil paintings of Hydrangea Sky dancers by Gretchen Lopez and botanical and wildlife artwork by Debra Williamson.
Coinciding with National Arbor Day this April 28, 'Unfurl' celebrates plant life, and the natural world, evoking the joy of spring as petals and leaves unfurl, reaching toward the sun, nourished by and rooted in the earth. The show title was inspired by the modern dance duet of the same name originated by professional dancer Christine Eaton of Nikolais Dance Theatre and featuring her daughter Taylor Marie in 2012.
Old Town Center for the Arts Is located at Fifth Street & Main in Old Town Cottonwood. Tickets for 'Hydrangea Sky Movement Arts Unfurl' are, $30 advance, $32 at the door, and $35 for priority seating in the first three rows. Tickets are available online at ShowTix4U.com or in Cottonwood at Mount Hope Foods and In Sedona, you can find tickets at The Mary D. Fisher Theater. For ticket prices and more information about these and other upcoming events, visit OldTownCenter.org, or call Elena Bullard at 928-634-0940.