EASY EATZ - The Last Supper: The Village Chophouse and other VOC tastes
By Edd Zielinski
Originally Published: August 1, 2023 12:35 a.m.
After 35 years in Sedona, Nancy and I decided to seek another adventure. We placed our VOC house on the market on July 1 and received an offer we accepted on July 3.
As such, we wanted to celebrate our new adventure, reminisce about our years in VOC and share a special dinner at one of the Village's newest restaurants, The Village Chophouse. 
 The Village Chophouse is a creative culinary addition to the Village and the Verde Valley. Opened in The Collective by owners Chef John and Nikki Ramagli in the site of the former J's Wine Bistro and behind their popular Rotten Johnny's Woodfired Pizza, the dining room setting is casual elegant with table spacing allowing for an intimacy yet able to view the kitchen, other diners and the food presentations being served. 
Nancy and I were joined by friends Dana Jacko and Fr. Glenn of St. John Vianney. We started with hand-crafted, flavorful cocktails while trying to narrow our dinner selections from the varied menu of select seafood, aged meats and farm to table vegetables. 
Nancy and Dana shared the Crab Cake appetizer with two large crab patties, Fr. Glen started with the Village Wedge salad while I opted for the appetizer special of the night – fresh, hand shucked, north Pacific oysters served with both mignonette and cocktail sauces, juicy and tasting of the brine of the sea – they were only $2.00 each, a tremendous value. 
For entrées we each ordered one of the House Specialties, Nancy selected the Snake River Farm Wagyu Pot Roast with a natural jus and veggies; Dana went with the Jidori Chicken presented with peas, mushrooms, ham, herb cream atop whipped potatoes; Fr. Glenn picked the most visually striking dish of Roasted Hokkaido Scallops – the aroma of the pan seared mollusks with lemon beurre blanc had the rest of us guessing our choices. My selection was the Niman Ranch Iberico Duroc Pork Chop with my choice of sides of Roasted Button Mushrooms and Green Peppercorn Sauce. We toasted to our amazing selections with a bottle of Muscadet with each of us speaking to the quality of and flavor or each dish. 
Nearly satiated from the ample entrée portions, we agreed to a four-way split of New York Turtle Cheesecake with Fr. Glenn dividing the large slice among four plates, I must confess that it looked like his plate may have had a touch more than the rest. 
What a memorable last supper for us, fantastic company, enlivened conversation, savory selections and thirst-quenching libations. 
The Village Chophouse 
At The Collective 
7000 AZ-179, Ste. E 100 
928-641-6587 
Reservations may be booked on Open Table – I received a confirmation 24 hours in advance. 
I recommend that you visit the Village Chophouse website and sign up for their texts offering specials, events and exclusive offers not available to the general public. Be a Villager in the know!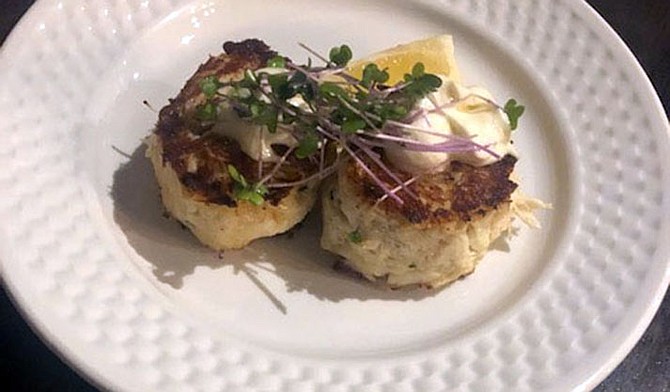 Parting VOC tastes
The week prior to vacating our house on July 20, I was home alone to finish up for our move. After cleaning the kitchen, stove, oven and packing all of our cooking essentials, I treated myself each evening to the tastes of VOC that I will miss and recommend that you spoil yourself with the culinary delights in our collective backyard.
My first night was two slices of Combo Pizza topped with pepperoni, sausage, green peppers and olives with an ice cold Hazy IPA draft sitting at the bar counter of Famous Pizza. Two slices was half a pizza!
The next night I felt comfortable in dropping my sweaty self into an outside patio table knowing that the wood smoker would be a good foil while I cut into a slab of rich brisket at Colt Grill washed down with a glass of hearty zinfandel. The view of Bell Rock was making me homesick already.
Any fan of the tv show hit 'Cheers' would recognize that PJ's is the Village is equivalent to the place where everyone knows your name or will at least ask. Friday Fish and Chips night at PJ's is a local tradition with those in the know getting there early. The hot, crispy fish and fries, cooling cole slaw, tart tartar sauce and friendly service makes it a must visit!
My last night after slamming my storage door shut was enjoyed treating myself to one of my long time favorites, Eggplant Parmigiana from Cucina Rustica. Chef Lisa Dahl 's recipe is based on a light egg battered, gently sauteed thin eggplant slices layered with marinara sauce and cheeses, served alongside perfectly cooked angel hair pasta gently tossed with the same red sauce. Lisa, a VOC neighbor has given back to our community and brings well deserved attention to her restaurants.
For my final breakfast that week I had to have the Huevos Rancheros con Chile Verde from Miley's Café. The spicy sauce, warm tortillas and perfectly cooked eggs is the best way to start any day. The Avelar family have long provided a comfortable, clean and friendly, attentive dining experience. I was able to say goodbye to Roberto, family patriarch, and Danny his son, a personal friend of our family having gone to school with our children and welcomed to our house on many an occasion.
There will be a lot to miss about the Village beyond the Red Rocks. I encourage our readers to support the many family owned businesses that have provided us in the Village of Oak Creek with memorable meals, neighborly service and great food!
---
SUBMIT FEEDBACK
Click Below to: