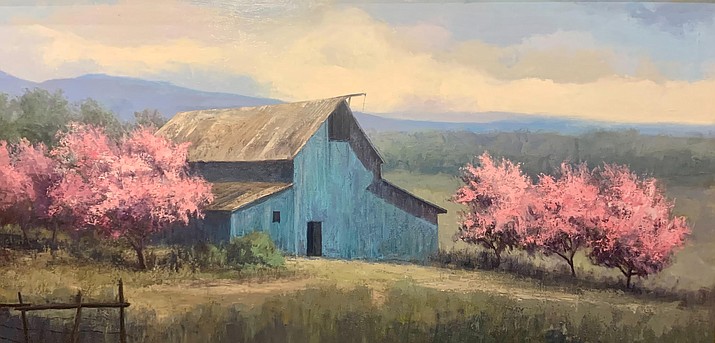 ---
---
Mountain Trails Gallery is proud to present 'Ranch Life is the Good Life' as the new exhibition shines a spotlight on the many talented artists who have backgrounds in ranching and farming, including those engaged in cowgirl and cowboy traditions. All these artists have, at one time or another, experienced what it means to work the land as well as care for the animals, and those affinities have brought a particular kind of effervescence and uplifting beauty to their paintings and sculpture. A number of these artists continue to thrive in the specialty lifestyle that they depict in their artwork, and their authenticity in this arena and beyond continues to bring recognition and honors to their work. In addition, the gallery is proud to celebrate another group of artists who create irresistible landscapes from the wide-open spaces and pastoral scenes from all across the West during the month of August, beginning with a reception for the exhibition on First Friday, Aug. 4 from 4-7 p.m. at the gallery's location at Tlaquepaque Arts and Crafts Village in Sedona.

Arizona painter Shawn Cameron, who comes from a multi-generational family of ranchers, brings a reverence to the land, the animals, and the cowboys that have worked the desert pastures with their beloved horses and canine companions at their side. A thriving life in ranching parallels Shawn's continued recognition as an important artist in museum shows and major exhibitions across the West. Also descending from a long line of ranchers, Colorado Farm Bureau member Sarah Phippen grew up inspired by not only her upbringing but also by her grandfather artist George Phippen who helped to found the Cowboy Artists of America organization. Sarah became an accomplished painter as well as sculptor. Both Sarah and Shawn found their calling early on and continue to exhibit their deep love of the land, the people, and especially the animals. Specializing in pastoral landscapes is Simon Winegar who brings the beauty of farmland to the attention of collectors who value the peace and quietude of rural life that can be found in his layers of tonalist colors.
A passion for the Western way of life defines Cowboy Artists of America member Dustin Payne who continues ranching traditions in Wyoming along with his two young sons who already know how to cowboy, as they excel in rodeo sports just like their father. Dustin also carries on the Payne family tradition of creating story-telling sculpture inspired by the history of the West, as he presents the many dramatic events as well as peaceful moments that continue to capture his attention. Arizona sculptors Susan Kliewer and Deborah Copenhaver Fellows, with numerous awards and recognitions to their credit, share their experiences of ranching life, each in their own way. Inspired by her own childhood ranch life as well as the history of the American West, Susan brings a compassionate awareness of the challenges of framing life for the pueblos of the southwest in many of her bronze sculptures. Chosen as one of the artists to represent the City of Sedona in their Art in the Roundabouts project, Susan will portray the revered artistic couple Maria and Julian Martinez hard at work on one of their pottery designs. Susan pays homage to the agrarian lifestyle of the Native American pueblos that elevated utilitarian objects to an artform with their elegant shapes and designs. At the Fellows Ranch, Deborah along with her artist husband Fred have also made their cowgirl/cowboy ways converge with their artistic talents into a living artform as they both know that ranch life truly is the good life.
'Ranch Life is the Good Life' would not be complete without artists who love horses. Painting and sculpture ideas come to these artists from so much time and attention around working horses and even thoroughbreds. Captivating colored pencil and oil paintings by Maria D'Angelo, oil on canvas paintings by Vicki Catapano and Steven Lang, as well as bronze sculpture by contemporary artists Mark Edward Adams and Lisa Gordon bring a reminder of the importance of this noble animal which continues to be instrumental in the Western way of life. Also, vibrant landscape paintings by award-winning artists Bill Cramer and Cody DeLong bring colorful and dynamic centerpiece art to the roundup as they convey what it means to appreciate the beauty of the land as they live the good life to the fullest.
Join Mountain Trails Gallery Sedona, upstairs Suite A201, overlooking the Patio de las Campanas in the Village of Tlaquepaque on First Friday, Aug. 4, at their reception from 4-7 p.m. as they continue to represent some of the leading artists in the American West. For more information contact the gallery at 928-282-3225, FineArt@MountainTrailsSedona.com, MountainTrailsSedona.com