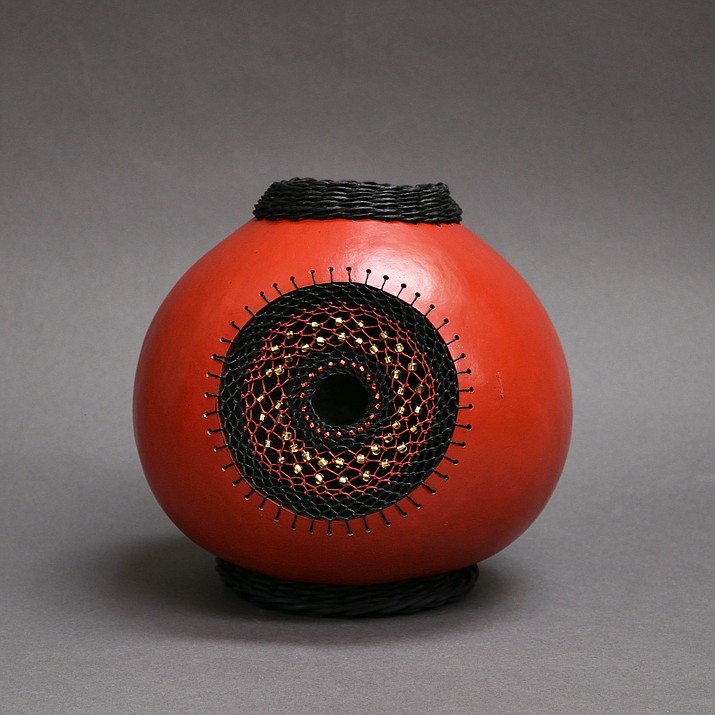 ---
---
Artists get asked a lot of questions, but one of the most common just might be: What inspires you to create? In preparation for In the Mood, Rowe Fine Art Gallery's latest show, which opens with a reception on Friday, Aug. 4, at 4 p.m., the gallery posed that very question to its own family of painters, sculptors and jewelers. As it turns out, inspiration can result in either a specific artwork or just the drive to spend time in the studio.
Navajo stone sculptor Alvin Marshall gets in the mood to create by waking up early, a practice his ancestors taught him. "As a Native American, I was told to rise before the sun, to welcome the sunrise and give the evening light blessings that you might awake in the morning and start all over," says Alvin. "In my tradition, my work reflects the songs and the prayers that were set by my ancestors' grandfathers' grandmothers. I turn those songs and prayers into sculptures – living stones, living stories."
Painter Julie T. Chapman, whose work has gone through a dramatic transformation over the past few years, says she used to be inspired by nature and wildlife, too. But sometimes inspiration changes as artists evolve. "Back when I was doing more representational work, I could point to the weather as inspiration," Julie says, "but nowadays I'd be hard-pressed to do that, given the disruption in what I do. Now, it's more like the chaos in the world/politics/our relationships to one another and the natural world that drive my work."
Other artists point to specific moments – happy and sad – that inspired artwork. For sculptor Liam Herbert, the passing of his mother-in-law completely changed the course of his life. "As an artist, I have explored many mediums to express the entire gamut of life's emotions," reflects Liam. "Originally, my sculptural mediums included wood, mixed-media and bronze. That expanded when my wife's mother passed away unexpectedly. Overwhelmed with grief, Sylvia and I attended a bereavement group for six weeks. I mentioned to the group that by the time I finished the course, I would create a wearable sculpture expressing what we were experiencing."
Sculptor Ken Rowe also treasures the opportunity to get close to the animals he sculpts. "There's an amazing array of animals I've had the absolute honor of working with, from wolves to grizzlies to mountain lions to rhinos," he says. "In many cases, I've been able to handle the animal and then sculpt as I observe it right in front of me. It's hard to describe how amazing it is to handle an animal like a grizzly, to feel its strength, see the texture of its hair, to feel the power of its breath on you."
Come meet some of the gallery's artists and see their latest works during In the Mood. The show runs through August. It's the continuation of a year-long celebration of the art of storytelling. When you come right down to it, artists are storytellers, using paint, clay and precious metals the same way a writer uses words. There's a story behind each of the paintings, sculptures and pieces of jewelry in the gallery – stay tuned as some of those stories are told throughout the year.
Rowe Fine Art Gallery represents traditional and contemporary southwestern artists. The gallery, located under the bell tower in Patio de las Campanas at Tlaquepaque Arts & Shopping Village, is open Monday through Thursday, 10 a.m. to 5 p.m., and Friday through Sunday, 10 a.m. to 6 p.m. For more information, call 928-282-8877, visit RoweGallery.com, or find us on Facebook, Instagram and Twitter.