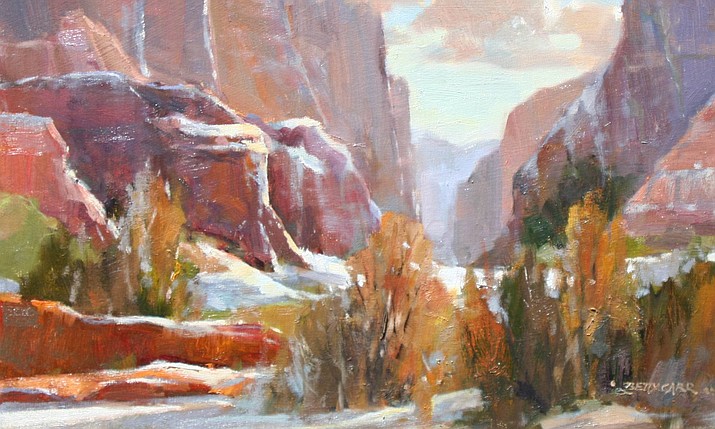 ---
---
From Aug. 24-27, 16 juried professional plein air artists all hailing from Arizona will paint from Prescott's beautiful forests, lakesides, and downtown historical and architectural beauty, as Yavapai College Prescott Art Gallery and the Highlands Center for Natural History present 'Art in the Pines: The fourth Annual Prescott Plein Air Festival.'
The artists may be found painting throughout Yavapai County, but the public is invited to observe and engage with them at no cost as they create their art at specific accessible demonstration sites.
The Plein Air Festival's pre-events will start Aug. 10 with an exhibition and sale of the artists' studio work at Yavapai College Prescott Art Gallery. The pre-event exhibition will run from Aug. 10-Aug. 20, with a free opening reception on Saturday, Aug. 12, 5-7 p.m. in the gallery. The pre-event exhibition will also feature an online auction of paintings donated by each of the participating artists. The auction will begin on Aug. 10 through an online website and conclude on Aug. 20, with the proceeds from the auction going toward funding scholarships and art prizes for Yavapai College visual art students.
The Festival will conclude on Sunday, Aug. 27 with a ticketed public reception and art sale at Yavapai College's Jim and Linda Lee Performing Arts Center and the Yavapai College Prescott Art Gallery from 1:30-4:30 p.m. The reception will be catered by El Gato Azul, a local restaurant, and will feature a cash bar, as well as the opportunity to visit with the artists and purchase one-of-a-kind paintings directly from the artists.
Featured artists include Carol Benally, Betty Carr, Cindy Carrillo, Tom Conner, Priya Drews, Lydia Gatzow, Terri Gay, Russell Johnson, Cathy Krieger, Gretchen Lopez, Beth Okurowski, Ken Ottinger, Dorothy Ray, Eric Slayton, Dawn Sutherland, and Johnny Tanner.
In the months leading up to the Festival, acclaimed artists Betty Carr and Dawn Sutherland will lead artists' workshops. During the children's summer camps at the Highlands Center for Natural History, campers will participate in a plein air activity. The Yavapai College Prescott Art Gallery will be open during performances at the Jim and Linda Lee Performing Arts Center.
For more information, please contact Tim Hull, Interim Art Gallery Manager at 928-776-2031 or email at Timothy.Hull@yc.edu.