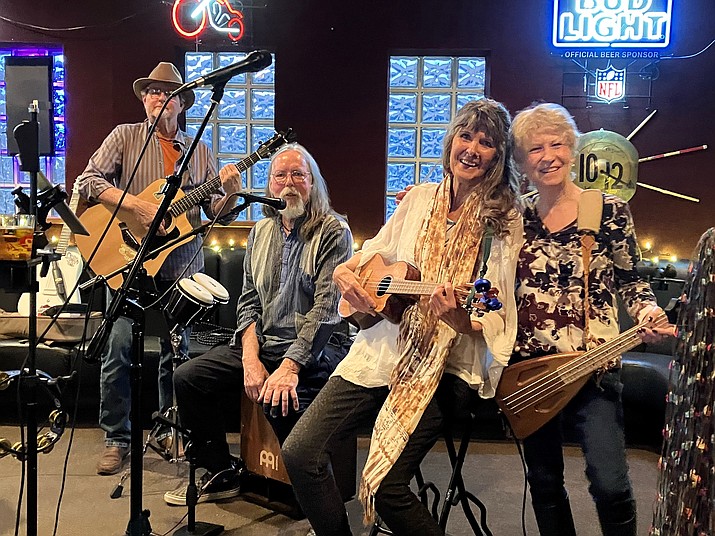 ---
---
10-12 Lounge
910 Main St., Clarkdale
928-639-0800
1012Lounge.com
Thurs 8/24 5pm Bo Wilson Incident
Sat 8/26 2pm Menagerie
Sun 8/27 2pm Well Dressed Wolves
Tues 8/29 5pm Frizzy & Edgy
Dragonfly @Cliff Castle Casino Hotel
555 Middle Verde Road, Camp Verde
928-567-7900
Live Music shows each Friday and Saturday. Shows start 9pm. Doors open 8:30pm.
Fri & Sat., August 25 & 26 • DJ Sixkille • Variety
Mooney's Irish Pub
671 AZ-179, Sedona
928-282-2331
mooneysirishpubsedona.com
Open every day for lunch at noon. Always 21 and older only - Late night menu available
Wed 8/23 Open Mike (7pm-12am)
Thurs 8/24 Karaoke by AllStar (9pm-1am)
Fri 8/25 DJ Split Cell (9pm-1am)
Sat 8/26 DJ Provisions (9pm-1am)
Mon 8/28 Karaoke by AllStar (8pm-1am)
Oak Creek Brewing Co.
2050 Yavapai Drive, Sedona
928-204-1300
OakCreekBrew.com
Zadie's Kitchen is open inside of the brewery Thurs-Sun at 2pm
Fri 8/ 25 – Local Honey (7-10)
Sat 8/26 – Flag5 (6 to 9)
Sun 8/27 – Karl Jones (4 to 7)
Tues 8/29– TUESDAY NIGHT KARAOKE! (8-11pm)
RedWall Lounge
2130 Shelby Drive, Sedona
928-554-1033
redwalllounge.com
Open Thurs-Sun 4-10pm
Happy Hour Mondays & Wednesdays 2:30-5:30pm
Redwall Whiskey & Bourbon infused Cigars available to purchase
Thurs 8/24- Daniel Diego (6 to 9)
Sun 8/27- Strip Down (6 to 9) classic rock folk acoustic duet
Vino Di Sedona
Wine & Beer Store/Bar/Kitchen
2575 W SR 89A
West Sedona
928-554-4682
VinoDiSedona.com
8/23 Paint Along For Fun 11:30-2; Rick Busbea, "Jukebox" Rock & Country 6-9
8/24 Open Mic hosted by Dan Rice 6-10
8/25 Beatles Night w/ Tommy "Rocks" Anderson 7-10
8/26 Paint Along For Fun 11-1:30; Wine Tasting w/ music by Jacqui Foreman, Soulful Eclectic Acoustic Vibes, 3-5:30; Sister & The Sun, Funk & Reggae 7-10
8/27 Randy J, Surf Rock 6-9
8/29 Nicki Park, Pop/Rock Covers & Originals 6-9
MUSICIANS
Alive n Kikin
Thurs., 8/24, 5-8 p.m., Howling Coyote Mexican restaurant, 1330 AZ 89A, Cottonwood
Christy Fisher

Fri 8/25 - Del Rio Springs Vineyard - Prescott 3-6
Sun 8/27 - Mogollon Vineyards - Dewey 2-5
Tues 8/29 - The Hilton Resort - Sedona 7-9
Kaleidoscope Redrocks
Gracie & Tivona Moskoff
Sun 8/27, 3-5pm - Lyzzard's Lounge, 120 N. Cortez St., Prescott
Menagerie
Sat 8/26 - 10-12 Lounge, Clarkdale, 2-6pm