Sign up to compete in Colonel's Daughter, Little Britches & Petticoats contests
Originally Published: August 26, 2023 10:24 a.m.
CAMP VERDE — The deadline for signing up to compete in this year's Colonel's Daughter competition is Sept. 6.
The competition among teen girls, presented by the Camp Verde Cavalry, is scheduled for Sept. 30 at 1 p.m. at Fort Verde State Historic Park. That same day and time at the Fort, the Town of Camp Verde will host the annual Little Britches & Petticoats contest for the little kids.
There is no charge to the public, and all are encouraged to attend the competition and root for their favorite competitor.
The Colonel's Daughter is not a rodeo queen or a beauty pageant but a teen who represents the town and earns her title by proving her equestrian skills while being poised beyond her years. The event's tradition goes back to 1960, when Wanda Jo Fuller Dickens became Camp Verde's first Colonel's Daughter.
The winner is presented each year during Fort Verde Days. She leads the parade escorted by the Camp Verde Cavalry, this year on Oct. 14.
During the Sept. 30 competition, the contestants, age 13-18, must show the basics of equestrianism such as lead changes. They will also be interviewed in period costume, facing three judges.
They can borrow an outfit from Fort Verde, or they can buy or have one made. There have been three generations of Colonel's Daughter competitions, and those dresses have been passed down and become a tradition of their own.
The title of Colonel's Daughter comes from a novel written in 1882 by retired Capt. Charles E. King. King arrived at Camp Verde in May 1874 to join the 5th Cavalry. He was said to have found inspiration for his book from Carrie Wilkins, the daughter of Lt. Col. John D. Wilkins of the 8th Cavalry.
To compete, girls need to sign up by Wednesday, Sept. 6. For more information, contact Jody White at 623-980-9919 or cvcavalry@gmail.com.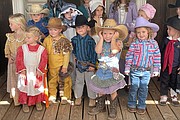 At the same time as the Colonel's Daughter, the Town of Camp Verde will host the annual Little Britches and Petticoats competition for little buckaroos, also at Fort Verde State Historic Park.
Due to the popularity of the contest, new age groups have been added. Those categories are now 1-3 years, 4-6 years, 7-9 years and 10-12 years. Parents have until Sept. 27 to register their children for the event.
They will dress in western wear for a small parade across the front porch of the fort's Commanding Officer's Quarters. The audience will then pick a favorite for Little Cowboy, Little Cowgirl, Historic Frontier Boy and Historic Frontier Girl.
All contestants will receive a wooden stick horse made by the "Camp Verde Old Guys." Winners will be given prizes donated by Hometown Hero Sponsor Tractor Supply. Contestants can also participate in the Fort Verde Days Parade on Saturday, Oct.14.

Registration the Little Britches contest is FREE. To register go to https://campverde.sportsites.com/player#ActIfb1ddc845-77f3-4f3c-a0d3-4e11d199b6620. For more information, please call 928-554-0280, option 3, or email at parks@campverde.az.gov.
---
SUBMIT FEEDBACK
Click Below to: