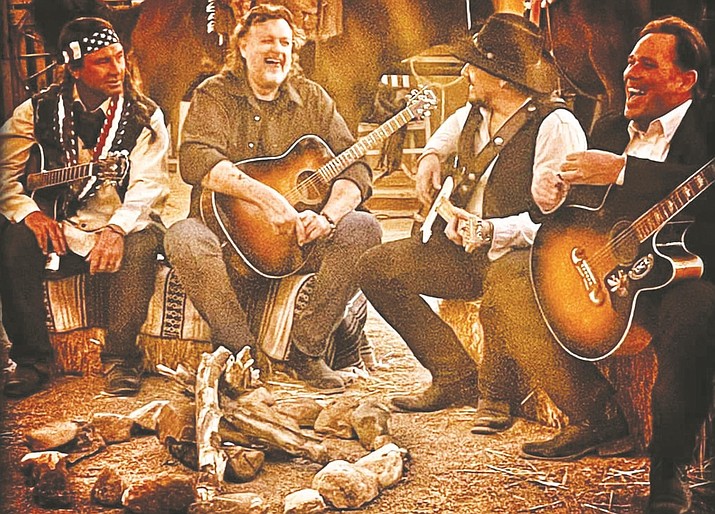 ---
---
Before You Go...
Date: Sept. 9
Time: Doors open at 5 p.m., Dinner at 6 p.m., Show from 7-9 p.m.
Location: Blazin M Ranch, 1875 Mabery Ranch Rd. Cottonwood, AZ 86326
The Blazin M Ranch is gearing up to host a thrilling event on Sept. 9, as the renowned American Highwaymen ride into town for an unforgettable evening of entertainment. Get ready to witness a high-energy performance that will transport you back to the Wild West, as these talented musicians bring their unique blend of country, folk, and Americana to the stage.
The American Highwaymen are no strangers to captivating audiences with their dynamic performances and incredible musical prowess. Comprising a group of exceptionally skilled artists, each member brings their own distinctive style to the ensemble, creating a powerful synergy that leaves fans on the edge of their seats.
Event attendees can look forward to a diverse repertoire that pays homage to the rich musical heritage of the American West. Drawing inspiration from iconic figures such as Johnny Cash, Willie Nelson, Waylon Jennings, and Kris Kristofferson, the American Highwaymen infuse classic tunes with a modern twist, resonating with both traditional country aficionados and contemporary music lovers alike.
"We are thrilled to welcome the American Highwaymen to the Blazin M Ranch," said Ryan Glass, owner of the Blazin' M. "Their unique blend of talents and heartfelt performances will undoubtedly create an electrifying atmosphere that will linger in the memories of our guests for years to come."
In addition to the captivating music, attendees will have the opportunity to indulge in the authentic western experience that the Blazin M Ranch is renowned for. Guests can savor a mouthwatering cowboy-style dinner, complete with BBQ Chicken and Ribs and delectable sides like their famous Prickly Pear Coleslaw! The ranch's rustic ambiance and warm hospitality will transport visitors to a bygone era, making the evening a complete and immersive experience.
Tickets for this exciting event can be purchased online at BlazinM.com or by calling 928-634-0334.
Don't miss this one-of-a-kind performance by the American Highwaymen at the Blazin M Ranch on September 9th. Saddle up and secure your tickets for a night of musical magic and western charm. For more information and updates, visit BlazinM.com or follow Blazin M Ranch on Facebook and Instagram.