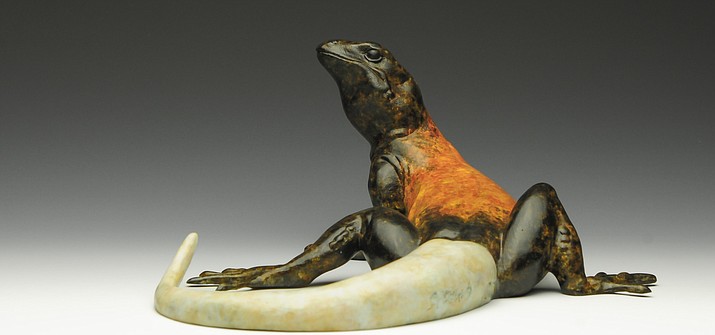 ---
---
Mountain Trails Gallery, located in the Village of Tlaquepaque in Sedona, is delighted to present 'Call of the Wildlife' in an annual celebration of artists who are passionate about animals, both wild and domestic, and many of these artists also have a fascination with the beauty and intrigue of the avian world. As the gallery shines a light on award-winning artists who share their extraordinary encounters with an array of wildlife, a spectacular variety of oil, colored pencil, watercolor, as well as bronze sculpture takes center stage in this show of uplifting fine art. The exhibition opens on First Friday, Sept. 1, with a reception from 4-7 p.m. and continues through Sept. 30.
For art enthusiasts and collectors, wildlife art can represent many things to them, including the beauty and grandeur of nature, their love of the outdoors, their own experiences and encounters with wildlife, as well as the outstanding traits that animals can represent. Bringing all these reminders to one's space can also give a contemplative form of peace as well as an invitation to adventure. All these adept artists bring an authenticity and a unique perspective from experiences and passion for this subject in their works of art.
Mountain Trails Gallery has been a destination for wildlife art for more than 40 years with artists showing not only landscapes, scenes and characters from Western history, as well as domestic ranching animals, and wildlife has always been prominent in their paintings and sculpture. Early on, Vic Payne became known for remarkable bronze sculpture from the history of the America West, and this traditional artist brought his experiences of the great North American mammals from the mountains and deserts of Wyoming, Montana, New Mexico, Arizona, as well as Alaska. His son Dustin Payne, a member of the Cowboy Artists of America, also answered his own calling with dramatic, action-packed sculpture from his experiences of being around life in the wild, as he continues to create stories of encounters with bear, moose, bison, mountain lions, elk, pronghorn, and more.

Adding sculptors Raymond Gibby and Jeremy Bradshaw to Mountain Trails Gallery has given more remarkable bronze choices to the mix. Each of these artists bring a sense of grandeur with each and every wild animal they create, sometimes hinting at a sense of humor in some of their personalities. Gibby's variety of wildlife creatures in his own traditional style range from the small Texas horny toad to a larger-than-life grizzly bear. Prominent for Gibby is a series of animals in smaller sizes such as a wandering bear, a wolf on night patrol, a charming bunny with a tickle in his ear, and a beaver taking time to groom. Larger works include a cougar watching over her young, a wolf family, a life-size red-tailed hawk, and more from which to choose. Bradshaw's contemporary bronze sculpture rises to become a powerful and elegant statement of space in dramatic, simplified shapes with an exceptional patina prowess that rises to eye-catching brilliance. His variety includes a series of vibrant red foxes, a colorful chuckwalla, bobcat, rabbit, coyote, squirrel, as well as numerous sparkling avian works. His new charming 'Caw of the Wild' is a powerful, larger than life-size raven speaking aloud about what he knows must be important to hear.
Paintings by traditional oil and watercolor artist Joe Garcia focus on detailed avian subjects as well as the coyotes, wolves, bobcats, and more, often including a landscape backdrop of their habitat in the artwork. Bringing charming, stylized portraits of critters along with her unique sense of humor, wildlife artist Jennifer O'Cualain is also outstanding in the group with oil paintings of a lynx, mountain goat, and bear. Equine and wildlife artist Maria D'Angelo brings a richly painted group of oil paintings as well as mixed media work that includes oil, colored pencil and acrylic to the show with a colorful cardinal pair, a bobcat, cougar, and numerous hummingbirds in flight made even more elegant in cameo style frames. In addition, Adele Earnshaw presents a striking cardinal on an evergreen, an ethereal floral with a blue bird, as well as a broad-tailed hummingbird dancing around cactus flowers that is likely to bring a smile.
"The wildlife show at Mountain Trails Gallery in Sedona is one of our most popular shows of the year for our collectors. We are proud to offer traditional as well as contemporary paintings and sculpture as each artist brings a moment of intrigue from their experiences in nature," spoke Julie R. Williams, Director. "From Raymond Gibby's insightful messages that often parallel family life, to the striking personalities of the red fox series by Jeremy Bradshaw, to Dustin Payne's fascination with exploring the mountains of North America, to our painters who catch an animal in motion that takes your breath away, this time of year is delightful and the start of a new season of collecting," Mountain Trails Gallery Sedona overlooking the Patio de las Campanas in the Village of Tlaquepaque invites the public to join them on First Friday, Sept. 1, at their reception from 4-7 p.m. as they continue to represent some of the leading artists in the American West. For more information contact the gallery at 928-282-3225, FineArt@MountainTrailsSedona.com or MountainTrailsSedona.com.