---
---
The Jerome Artists' Cooperative Gallery presents 'XVIII: Celebrating Eighteen Years of Envisioned Realism.' Featuring new and popular works created during Bernie Lopez' 18-year career in art, 'XVIII' will kick off with a reception for the artist on Jerome's First Saturday art walk, Feb. 4, from 5-8 p.m.
Know Before You Go ...
• What: The Jerome Artists' Cooperative Gallery
• What: 'XVIII: Celebrating 18 Years of Envisioned Realism' a solo show by member-artist Bernie Lopez.
• When: Reception for the artist: Jerome's First Saturday art walk, Feb 4 from 5 - 8 p.m. Snacks and Refreshments will be served.
• Where: The Jerome Artists Cooperative Gallery, 502 Main Street, Jerome, ground level.
As an acrylic painter, Bernie Lopez works in three distinct series of paintings: He refers to these as 'The Moonlight Series, The Sunset Series, and The Landscape Series.' All his works are inspired by his extensive travels throughout the Western United States, which began when he was a young man.
His first extensive trip around the West stirred his interest in painting the American West. Now, with his home and studio located in Prescott, Lopez finds, "This location is the perfect jumping off point to many areas of artistic interest in the Southwest."
Making regular trips to Colorado is one of his favorite inspirational outings. Yet, Arizona is where he garners the bulk of his inspiration because of its diverse, beautiful landscapes.
One might mistake Lopez' finely detailed paintings to be photographs. However, rather than photorealism, Lopez refers to his style as 'Envisioned Realism.' This is because Lopez does not work from photographs. Rather, he pulls his imagery out of his memory and imagination.
In addition to his original paintings, Lopez provides high quality giclée prints to meet the demand for his work.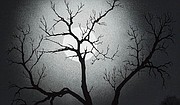 Lopez is a long-time member of both the Jerome Artists Cooperative Gallery and the Arts Prescott Cooperative Gallery where he can be found working his shifts periodically. His art is also available online and at various art shows around Arizona.
Meet Bernie Lopez and delight in his celebration of "XVIII: Eighteen years of Envisioned Realism." First Saturday in Jerome, Feb. 4 from 5-8 p.m. at the Jerome Artists' Cooperative Gallery. Refreshments and snacks will be provided. The show runs Feb. 1-Mar. 28. The Gallery is open daily (except Tuesdays) from 10 a.m.-6 p.m. For more information, call 928-639-4276, visit JeromeCoop.com, or email Info@JeromeCoop.com Currently accepting new member applications.