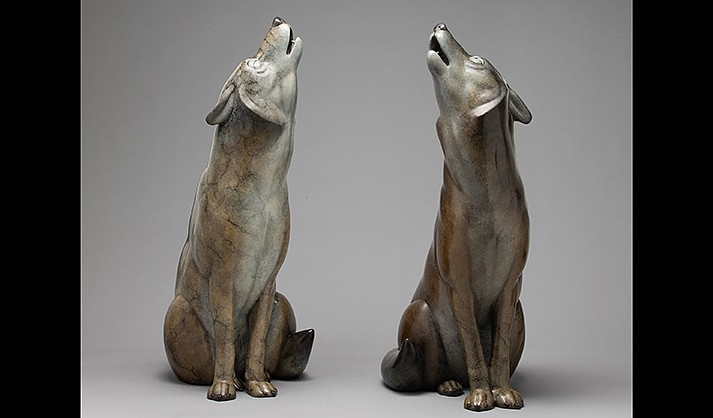 ---
---
Backtrack three years ago, when COVID-19 had a tight grip on the world. Like most businesses, Rowe Fine Art Gallery temporarily locked its front doors, but that didn't stop its most ardent supporters from purchasing art. "We had one couple—who started collecting my work long before I opened a gallery—tell us they considered Rowe Fine Art Gallery and its artists part of their family," remembers gallery owner Ken Rowe. "During the pandemic, they called in to order art over the phone, not only because they wanted to add to their collection but because they wanted to make sure the gallery and its artists prospered during some very challenging months."
Because of collectors like that couple, every Feb. the gallery honors its clients with a special show dedicated to their unwavering support of fine art. 'Love Connection' takes place on Friday, Feb. 3, from 4 to 7 p.m. If you have ever purchased a Ken Rowe sculpture or a piece of art from Rowe Fine Art Gallery, you are invited to stop by that evening – and all month – for a special sweet treat. This year's gift highlights sculptor Joshua Tobey's 'Heart and Soul' bronzes. If you're a Joshua Tobey fan – or a fan of wolves – you'll want to make sure you stop by.
For those who've never purchased from Rowe Fine Art Gallery, with Valentine's Day right around the corner, now is the time to discover the perfect gift. The gallery offers jewelry by artists Liam Herbert and Jennifer Inge. Represented painters include Julie T. Chapman, Dane Chinnock, Kim Diment, Jen Farnsworth, Lynn Heil, Gary Jenkins, John Rasberry and Amy Ringholz. Enjoy sculptures from Shirley Eichten Albrecht, Kim Kori, Alvin Marshall, Erik Petersen, Joel Petersen, Ken Rowe, Jason Scull and Joshua Tobey.
As for the above-mentioned clients, they continue to add to their art collection, most recently with Ken's 'Looking for Ewe' bronze, which they say is a new favorite. They aren't the only collectors to recently have had an emotional reaction to a piece of artwork. A few days before Christmas, a local husband presented his wife with an early gift: Ken's 'Petunia' bronze sculpture. The sculpture depicts a javelina taking the time to stop and smell, you guessed it, a petunia.
'Love Connection' marks the second month of a year-long celebration of the art of storytelling. When you come right down to it, artists are storytellers, using paint, clay and precious metals the same way a writer uses words. There's a story behind each of the paintings, sculptures and pieces of jewelry in the gallery; stay tuned as some of those are told over the coming 12 months.
Rowe Fine Art Gallery represents traditional and contemporary southwestern artists. The gallery, located under the bell tower in Patio de las Campanas at Tlaquepaque Arts & Shopping Village, is open Monday through Thursday, 10 a.m. to 5 p.m., and Friday through Sunday, 10 a.m. to 6 p.m. For more information, call 928-282-8877, visit RoweGallery.com, or find us on Facebook, Instagram and Twitter.