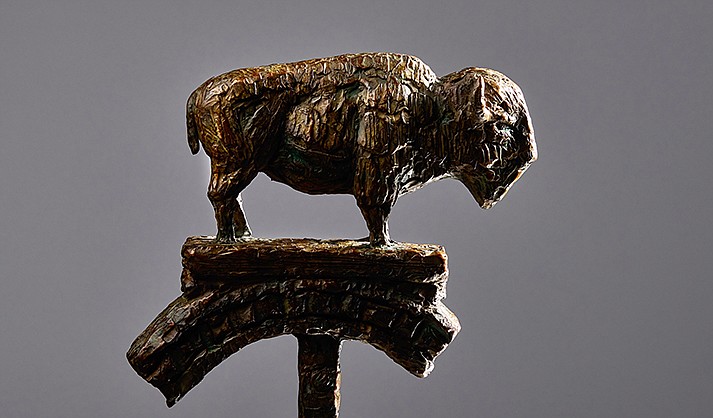 ---
---
Mountain Trails Gallery Sedona is proud to present 'Native American Inspired: Still Lifes and Figurative Stories' as they celebrate exceptional artists who create paintings, sculpture, and mixed media fine art inspired from their research and experiences with artifacts and objects as well as ceremonies, gatherings, and traditions. A remarkable legacy from Pueblo and tribal cultures is told by these award-winning artists as they bring old and new stories to life in a variety of still lifes, figurative characters, as well as living history and reenactments.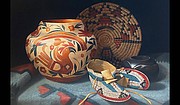 Having a life-long fascination with the many Native American cultures of the West, Arizona realist painters Lisa Danielle and Sue Krzyston have created a more intimate look at the intriguing artistry of so many tribes and Pueblos who followed tradition in creating utilitarian objects with an exquisite hand and eye for aesthetics. Western painters Vicki Catapano, Jean Hildebrant, and Steven Lang bring the people, the ceremonies, and the regalia to the forefront with an eye for exquisite detail and color in their figurative storytelling works. In addition, the unique atmospheric paintings by Tamara Rymer and the colorful landscapes by Jim Hagstrom are a more contemporary look at the stories left behind by the remnants of dwellings on the land, as both these artists paint with a fresh and inspired curiosity.
The variety of Native American cultures that are rich with dynamic characteristics, a reverence for beauty, and a spiritual nature are also prominent in the bronze works of the gallery's sculptors as they continue to elevate the history and legacy of outstanding leaders as well as the day-to-day activities and ceremonies of the Pueblos and tribes of the American West. A part of the celebration includes Dustin Payne's 'Smoke Talker' and 'Red River Council' highlighting the art of communication, Raymond Gibby's prominent leaders and holy men 'Sitting Bull' and 'Bear Medicine,' Susan Kliewer's 'Her First Blanket' referencing the Navajo textile tradition, Michael Trcic's masterful negotiators 'Dull Knife' and 'Victorio,' as well as the symbolic 'Buffalo on Circle of Life' by Mark Edward Adams. All these powerful bronzes and compelling paintings bring a potent reminder of the courage and valor as well as the spiritual nature of the inner and outer life of these cultures that have left an indelible mark on our Western heritage.
The public is invited to the reception for 'Native American Inspired: Still Lifes and Figurative Stories' which takes place on First Friday, Feb. 3, from 4-7 p.m. Mountain Trails Gallery Sedona, located at 336 SR 179, upstairs Suite A201 in Tlaquepaque, is also proud to exhibit work by their more than 50 extraordinary artists working in a wide variety of subject matter in painting, sculpture and mixed media fine art, as they all contribute to making this gallery a destination for collectors, enthusiasts, and visitors from all over the world. For more information contact the gallery at 928-282-3225, FineArt@MountainTrailsSedona.com, MountainTrailsSedona.com.