A New Look for Poco Diablo: Willows Kitchen and Wine Bar
Jeff & Suzie Dunn
Originally Published: February 1, 2023 12:20 a.m.
Poco Diablo - 1752 SR 179 - was built in the 1960s as a portion of the original Doodlebug Ranch. After an extensive remodel in 2022, Edd and Nancy Zielinski joined us for dinner there at Willows Kitchen and Wine Bar.
It was October and dark outside, but we could ooh and aww at the interior: clean lines, great lighting, newly decorated large group areas including a wine room and increased seating within. We just missed Evan Campbell, the Chef & B (Chef and Food and Beverage director). We had read about him in local magazines and we were interested in trying out his menu.
His East Coast roots and experience with seafood paired with traditional southwestern fare seemed like a good marriage. We returned in January to meet young and personable Chef Campbell. He introduced us to his Level 2 Sommelier, Nikki Stevenson, who took it from there. She was as enthusiastic about the menu as she was the wine offerings. Chef Campbell checked in on us and later sent a beautiful plate of desserts.
Willows is a fine dining restaurant whose menu leaves so many interesting choices to the diner. At breakfast (7-11 a.m. Su-Th, 7-10 a.m. Fr-Sa), lunch (11 a.m.-4 p.m.) and dinner (4 p.m.-close) and soon, a daily happy hour (4-7 p.m.), there are classics, small plates, sides, sweet starts, entrees, salad+soup, greens+flatbread, ala carte large plates, chef's favorites, composed large plates, and beverages. It's a good idea to view the menus online and then get clarification from servers. That's what we did.
Edd was the most adventurous of our group. He ordered bone marrow on our first visit and pork belly pasta on the next. Nancy's firecracker shrimp and sliders were tasty and worth trying again. Jeff enjoyed the Kansas City strip and potato croquet while Suzie had the lamb loin. Starting with the baby iceberg salad with Stilton bleu, pepper bacon, and crunchy red onion gave two of us a healthy start the first night. Three of us ordered pan seared halibut with grilled lemon and smoked sea salt the second go round. It was excellent. Another excellent dish was the side of kimchi fried rice.
Nikki Stevenson defined the rebranded restaurant, Willows Kitchen, as "the perfect modern expression of high-end New American cuisine." She went on to describe the bar program, led by the restaurant manager, Michael McCoy.
"His cocktail menu features a range of powerful, spirit-forward options like 'the Apothecary' (Irish whiskey+cognac+amaro+banana liqueur+bitters) as well as light, effervescent drinks like "the Bride's Bouquet" (gin+hibiscus+aperol+lemon+brut rosé) ; something for everyone. 
The wine list includes offerings from around the world, from Napa Valley's Caymus Cabernet Sauvignon to Bordeaux wines such as Chateau Lynch-Bages, to Arizona wines like the Château Tumbleweed Tempranillo from Cochise County. Hotel guests and locals alike can treat the wine room like a little Sedona wine shop. Guests can purchase all their wine needs for their stay. Locals can come in and shop for a special occasion wine or just to pick up a bottle after work on their way home. (Phone 928-203-5936 or check website for more information)
Many thanks to the staff at Willows Kitchen and Wine Bar. We wish them much success. We also thank Edd and Nancy Zielinski for joining us.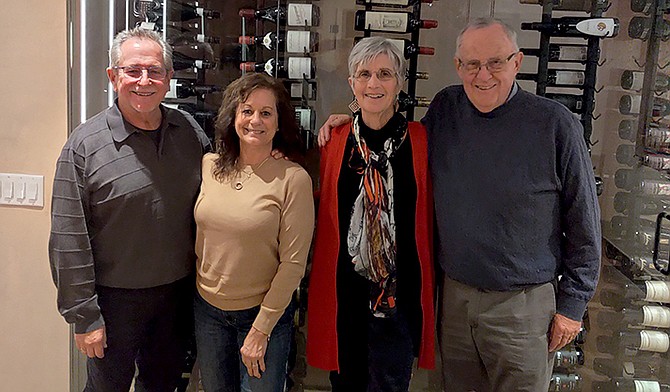 After 20 years, this is our parting Dine In/Dine Out with The Dunnery article. It's been great fun helping The Village News morph into The Villager. R.G. Wycoff and Gale Shaw Simpson brought us on board in 2003 and allowed us to write positive informative articles about anything to do with dining. The editors have been kind to give us space every month since then. Readers have been kind to ask and give us tips and ideas. We now relinquish that space and look forward to the new foodie voice of the VOC, Edd Zielinski.

To Your health and Happiness,
Jeff and Suzie at The Dunnery
---
-
SUBMIT FEEDBACK
Click Below to: