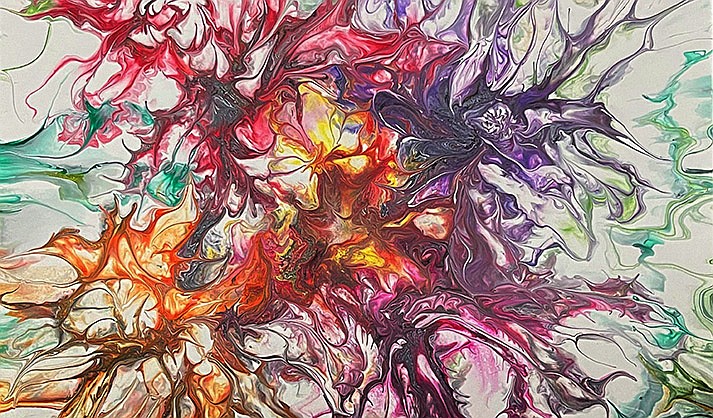 ---
---
The Sedona Renegades Artist Group and the Sedona Center for Harmony and Enrichment are pleased to announce that Cathy Knisley is the venue's featured guest artist in February. The public is invited to celebrate her and her dazzling works at a cordial First Friday reception on Feb. 3 from 5-7:30 p.m.
Born and raised in a small Southern Ohio town, Cathy has always been fascinated by both the arts and the sciences, and was able to study painting, drawing, and ceramics while in college. She then embarked on a rewarding 45-year journey as a research scientist, physician, wife, and mother before reawakening her artistic side.
After discovering abstract cellism using fluid acrylics, Cathy has expanded into abstract and other fluid arts, including alcohol inks and watercolors, and embraces experimental and contemporary design. Mixing a wide range of fluid and traditional art techniques, her work has grown into multifaceted expressions of imagination with endless opportunities for interpretation.
Cathy's fluid art techniques give rise to an improvisatory process of creation without preconceived expectations. Vibrant color palettes are woven into the rich forms and textures of her completed works, which have been featured in a variety of exhibits and galleries in recent years and have been acquired by many discriminating collectors.
Sedona Center for Harmony & Enrichment is a welcoming rental space that is a home for practitioners, artists, and event creators. In addition to the Renegades art exhibits, it hosts private healing sessions, yoga classes, movement classes, workshops, intimate retreats, meditative art classes, meditation groups, women's circles, men's circles and more. For information on renting this space, contact Tatia Fick at 928-554-1951 or visit SedonaCHE.com .
Now in its eleventh year, the Sedona Renegades Artist Group is known for organizing exhibits in a variety of local venues and is now delighted to be in residence at SCHE. Led by Jim Peterson, Carol Gandolfo, and Karen O'Donnell, the group features an outstanding guest artist each month plus a profusion of diverse works by its distinguished member artists.

The Renegades include Jodie Ball, Janice Davis, Carol Gandolfo, Rick Gandolfo, David Marsh, Karen O'Donnell, Jim Peterson, and Rafael Ramos.
The exhibits can be viewed in the heart of gallery row at Sedona Center for Harmony & Enrichment, on the upper level of Hozho Center, 431 State Route 179, Suite A6, Sedona, AZ 86336. For more information, contact Jim Peterson at 602-828-7407 or Tatia Fick at 928-554-1951.