Cottonwood Police issue alert for level 2 sex offender
Originally Published: February 2, 2023 12:21 p.m.
The Cottonwood Police Department issued the following sex-offender notification Feb. 1, 2023.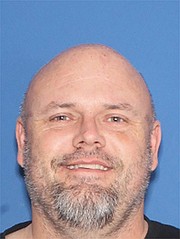 Edgar Paul Westfall, 47, is a level 2 (intermediate risk) sex offender who will be living within the city limits of Cottonwood on North Main Street. He is not wanted by law enforcement at this time.
Twenty years ago, Westfall was convicted Jan. 10, 2003, of sexual battery and placed on 60 months' probation. The victim was a 15-year-old male known to the offender. Oct. 10, 2007, Westfall was convicted of failure to register and sentenced to five years in the Florida Department of Corrections.
Flyers are being distributed to the immediate neighborhood in the area of his intended residence. It is the responsibility of the chief law enforcement officer having jurisdiction where the offender resides to make notification to the community. Notification must be made when certain sex offenders are released from Arizona State Prison, accepted under an interstate compact or released from the county jail back into the community.
The notification describes Westfall as 5-foot-11, 240 pounds, with brown hair and hazel eyes.
"This notification is not intended to increase fear; rather it is our belief that an informed community is a safer community," it states. "CITIZEN ABUSES OF THIS INFORMATION TO THREATEN, INTIMIDATE, OR HARASS SEX OFFENDERS WILL NOT BE TOLERATED. The Cottonwood Police Department may be reached at 928-634-4246 and is available to help you join or start a neighborhood watch program as well as provide you with useful information on personal safety."
If you have information regarding current criminal activity on this or any other offender, please call Yavapai Silent Witness at 1-800-932-3232 or 911.
---
-
SUBMIT FEEDBACK
Click Below to: