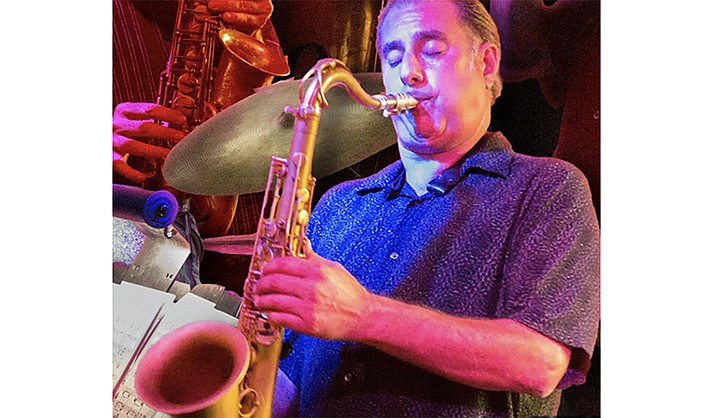 ---
---
Every Sunday Sound Bites Grill features its "Jazz & Juice event where patrons get to hear the best jazz Sedona has to offer, a great meal and a bottle of wine of their choice at half price with the purchase of two entrees, providing the wine is priced under $80.
Beautiful lighting, a professional sound system and a New York City supper-club-ambiance, turn this upscale restaurant into the perfect venue to see, listen and dance to talented musicians, up close and personal.
This Sunday, Feb. 19, Sound Bites Grill features saxophonist Chris Counelis, a true master at his craft. Versatile, engaging, talented and inclusive, this musician plays to the audience, especially for those who love jazz.
He grew up surrounded by jazz and Big Band music. And it shows. He studied at Berklee College of Music while still in high school and attended The University of North Texas for four years majoring in Jazz Performance before coming to Sedona and settling down in Red Rock Country.
Enjoy the music, wine, ambiance and fine fair at Sound Bites Grill every Sunday.
On Friday, Feb. 17, from 6 to 9 p.m. it's 3M-Ki bringing the house down, featuring the lovely Susannah Martin on vocals accompanied by Robin Miller, Eric Miller and Patrick Ki.
This is truly a super-group combing their talents to bring new life into every song they play covering all the classics. Astounding harmonies and virtuoso performances by the musicians enthrall audiences and take them on a magical carpet ride through the classics of all time.
Recording and performing artists Miller and Ki round out this trio perfectly, as both musicians are virtuosos on their instruments and talented singers as well.
The band's versions of classic pop/rock tunes by artists such as the Eagles, the Beatles, Fleetwood Mac and Sting along with well-crafted originals and spicy Latin jazz have won them an enthusiastic fan-base on the local music scene.
Singer Susannah Martin, adds her fine feminine flair to the band. She wails on R&B or Rock tunes, delivers a touch of sultry jazz improv and sings fluently in Brazilian Portuguese and Latin hits.
Martin also provides a strong back beat on the "Cajon" or (beat box) to help drive the band.
Martin is known locally as one of Sedona's "Dynamite Divas," and is also musician for SUUF (Sedona Unitarian Universalist Fellowship) and a popular vocal coach in the area.
Sound Bites Grill is located at the Shops at Piñon Point adjacent to the Hyatt in Sedona. For more information please visit SoundBitesGrill.com or call 928-282-2713. Tickets can be purchased via their website.