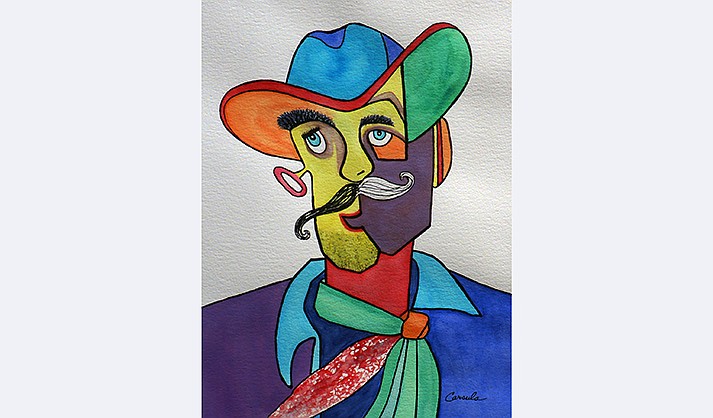 ---
---
Yavapai College Verde Valley Campus is proud to announce The Art Mix.
This mixed media juried show is an opportunity for Yavapai College to feature and support 42 local artists from El Valle Artists Association (EVAA). The Art Mix opening reception will be Thursday March 2, 5-7 p.m., at the College's Patty McMullen-Mikles Art Gallery at 601 Black Hills Drive, Building F, in Clarkdale. 
Free and open to the public, this reception will feature complimentary small bites and wines for purchase from the College's award-winning Southwest Wine Center. The exhibit will run through March 30. Gallery hours are 10 a.m. to 3 p.m., Tuesday through Thursday, except during campus spring break closure March 13-17.
EVAA is an all-media artist association founded by a handful of Cottonwood artists in 1972. Today its 90 plus members enjoy 2- and 3-dimensional art mediums including painting, sculpture, glass, photography, felting, and basketry to list just a few. They meet the second Thursday of the month, from September through May, 1-3 p.m. at the Mountain View United Methodist Church at 901 S. 12th St. in Cottonwood. EVAA offers informative programs, workshops, monthly art competitions, and opportunities for member artists to display their artwork in local businesses. Learn more about EVAA at elvalleartists.org.
The Patty McMullen-Mikles Art Gallery at Yavapai College Verde Valley Campus offers a diverse range of visual art exhibitions, featuring both nationally recognized artists and emerging artists. Formerly the Verde Art Gallery, the gallery has been dedicated in celebration and honor of beloved Artist, YC Art Professor, and gallery founder Patty McMullen-Mikles. In this show, all proceeds from artist E.M. Short will benefit the Verde Valley Sanctuary. At Yavapai College, artists can study with successful professional studio artists.
Whether you're wanting to learn new skills, enhance existing ones, or pursue a career in the fine arts, Yavapai College is the place for you to build a successful future.
Information provided by Yavapai College.