Heart & Soul: Music takes Damiyr Shuford from NYC subway to Sedona vortex

Originally Published: February 22, 2023 1:15 a.m.
Singer-songwriter Damiyr Shuford began his music career by busking in the subways of New York City. After moving to Sedona three years ago, Shuford has established a monthly, donation-based community event, Heart & Soul, at The Hub in Sedona's Posse Ground Park complex. The next session takes place on Feb. 24 beginning at 6:30 p.m.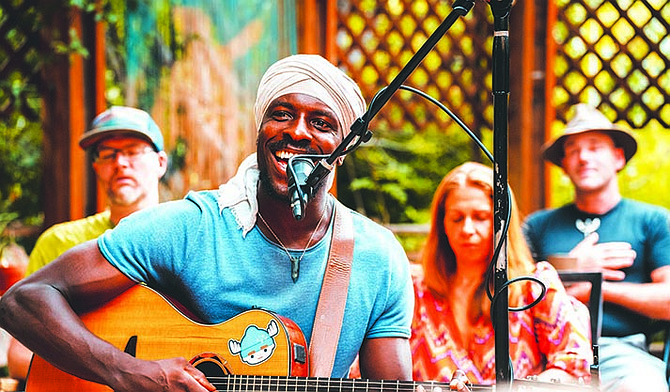 Shuford's childhood was somewhat unusual and tumultuous.
"My parents were Muslims," he said. "I was born in a mosque and spoke only Arabic until I was 8 years old."
His parents' marriage ended when he was still young.
"I discovered music in my teens," Shuford said. "It gave me a way to feel and process my emotions and pain. Every time I sang, it gave me a sense of freedom from the hurt I was feeling. Music helped me heal."
In his 20s, Shuford decided to take a chance with his music. He made the decision to play in the New York subway system.
For those who are unfamiliar, buskers, or street musicians, are common in the subway tunnels. Oftentimes, a talented person will perform as passersby simply walk by without really noticing. Sometimes, the musician will gain a small but temporary audience, and maybe a few dollars dropped in their jar or guitar case.
"When I decided to play in the subway," said Shuford, "I only knew one song. It was 'Use Somebody' by Kings of Leone."
The song is about being lonely while surrounded by other people and longing for connection.
"That song has always reminded me of my mother," Shuford said.
"When I started to sing, my whole body was shaking. I just closed my eyes and started singing. Just that one song; I sang it over and over again."
When Shuford opened his eyes again, five hours had passed in the subway tunnel.
"I felt so free," he said. "It was like I was a bird and music was my wings. I realized this is what I was meant to do."
During the pandemic, Shuford began to consider moving away from the city. He went to Colorado to visit family. His next stop was to be Mount Shasta, California. Someone suggested he make a stop in Sedona, and his life – and journey – instantly changed.
"It felt like a welcome home," Shuford said.
The Sedona Vortex sucked him in, and Shuford decided to stay.
Heart & Soul is the manifestation of Shuford's desire to share live music with the community and to showcase local musicians.
"I want people to be able to share in the energy whether they have money or not," he said. "Heart & Soul is an evening of consciousness and connection through music."
The Feb. 24 event includes Shuford's performance as well as local musicians Ashtani, Miguel Montoya, Lyrali Lara, Christina Knighten and Emilia Ann. In addition, the evening is a fundraiser for the Sedona Dance Project by Danielle McNeil and will include dance performances choreographed by McNeil and other local dancers.
Cindy Cole is a freelancer for the Independent. She is a writer, editor, photographer and artist. Reach her at cindycole@live.com.
---
SUBMIT FEEDBACK
Click Below to: