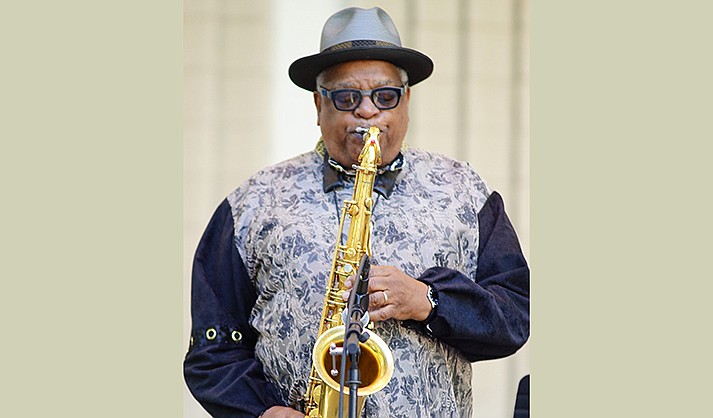 ---
---
One of the world's most renowned Jazz Musicians, Bill Saxton and the Harlem All Stars will perform for one night only, at the Old Town Center for the Arts, Saturday, Feb. 25 at 7 p.m.
Bill was born in Harlem and attended NYC public schools. His music career spans from the late 1960's to the present. After graduating from The New England Conservatory of Music in Boston with a degree in jazz music, he went on to appear with and/or record with jazz giants, such as Roy Haynes, Jackie McLean, Clark Terry, Nancy Wilson, The Duke Ellington Orchestra, The Count Basie Orchestra, Frank Foster, Carmen McRae, Mongo Santa Maria, Roy Ayers, Barry Harris, Tito Puente, and Charles Tolliver, to name a few.
Saxton toured with the US State Department extensively in West Africa. He went on to play across Europe and into Japan and the Caribbean. The White House honored him during Black Music Month, The Harlem Jazz Museum featured his life and The Library of Music at New York's Lincoln Center housed his induction as a Jazz Legend.
In Harlem he also established himself as a bandleader of world class musicians for over 10 years being joined by Bobby Watson, Hilton Ruiz, Bobby Forester and John Hicks.
Bill has composed more than 80 musical compositions. Tunes such as "Beneath the Surface", "One for Booker" and "Priorities" earned a three star rating and critical acclaim in Downbeat and BeBop and Beyond magazines.
Bill rejuvenated a historical jazz landmark when he opened "Bill's Place" in 2006. In 1927 during prohibition, the famous Swing Street, 133rd Street between Lenox and Seventh Avenues, was the after-hours hangout for Duke Ellington, Fats Waller, Moms Mabley, Langston Hughes, and the like. The popular joint at 148 West 133rd, a speakeasy, was home to Willie the Lion Smith on piano and a place in Harlem, for little known, young Billie Holiday. This space is now alive and full of the spirit of the jazz of the past.
Bill's Place is continuing the purist legacy of serious straight-ahead-jazz. Bill Saxton lives his African American heritage and represents Harlem at its best. He is jazz.
Old Town Center for the Arts Is located at 5th Street & Main in Old Town Cottonwood. Tickets for Bill Saxton & the Harlem All Stars are $20 in advance, $22 at the door, and $25 for priority seating in the first three rows. Tickets are available online at showtix4u.com.
Tickets are available online at showtix4u.com. Tickets are also available in Cottonwood at Mount Hope Foods, and in Sedona at The Mary D Fisher Theater. For ticket prices and more information about these and other upcoming events, visit OldTownCenter.org, or call Elena Bullard at 928-634-0940.