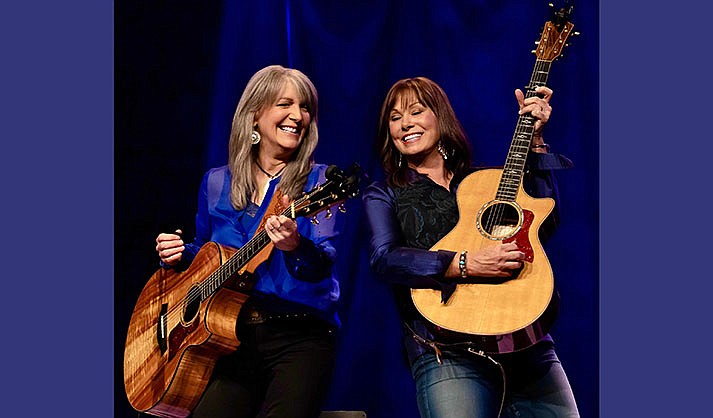 ---
---
Two stars, no waiting. When longtime friends and country music artists combine their impressive set lists and their love of live performance, everybody in the audience wins. Yavapai College Performing Arts Center invites you to join Country music hitmakers Kathy Mattea & Suzy Bogguss for a rousing and memorable 'Together at Last' performance, Thursday, March 2, at 7 p.m.
Two country music legends, with three Grammy awards between them, bring their prodigious talents, their solo hits, and their on-stage chemistry to the stage in 'Together at Last.' Friends since their early days in Nashville, Kathy Mattea and Suzy Bogguss have each carved out careers in popular music with country chart hits spanning two decades. Kathy has had more than 30 singles in Billboard Magazine's Hot Country Songs Charts, including 'Goin' Gone,' 'Eighteen Wheels and a Dozen Roses,' and 'Come From the Heart.' She won Grammy Awards for her 1990 single 'Where've You Been?' and her 1993 Christmas Album "Good News."
Bogguss found stardom with her platinum-selling album Aces, which featured four hit singles: the title track, 'Someday Soon,' 'Outbound Plane,' and 'Letting Go.' She won the Academy of Country Music's Top New Female Singer award in 1989 and the Country Music Association's Horizon Award in 1992.
Their busy solo careers allowed Kathy and Suzy few opportunities to collaborate musically, although they did perform a Grammy-nominated cover of 'Teach Your Children' back in 1994. Their fans have clamored for a joint tour like this for years. And now, sporting new material developed for the tour, armed with two careers worth of stories and more hits than they can fit, Kathy Mattea and Suzy Bogguss are together at last.
Tickets for Kathy Mattea and Suzy Bogguss start at $32. Yavapai College Performing Arts Center is located at 1100 E. Sheldon Street, in Prescott. The YCPAC Ticket Office is open Tuesdays and Wednesdays, from 9 a.m. – 6 p.m.; and Thursdays and Fridays, from 9 a.m. - 4 p.m. For reservations or more information, please call 928-776-2000 or visit us online at YCPAC.com.