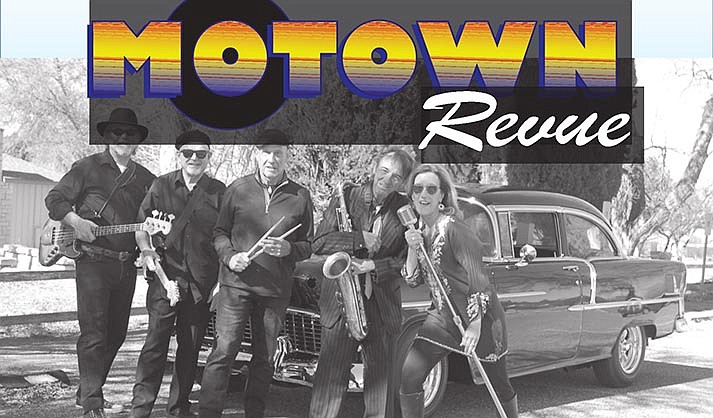 ---
---
Thursday, Feb. 23, Camp Verde Library's Music in the Stacks Special Concert Series continues from 5-6:30 p.m. in the Fireside Room, featuring Joe Clyne and The Motown Revue. If you enjoy the music of the 60's Motown you will love this group of professional players taking you back in time.
Joe Clyne
Joe was a big part of the Kansas city music scene for years before moving to the Verde Valley. He has played Motown, Pop, Blues and country and has extensive recording experience. He has opened up for the Righteous Brothers, Eric Burden, Kansas, and Waylon Jennings. He has 4 CDs you can hear on YouTube and is currently doing solo and duo acts at the local wineries in the Verde Valley.
Paul Simon
Paul has played a variety of venues, as a drummer with a rock band, percussion with a Cole Porter musical with a Boston theatre company and for the annual Tennessee Williams Festival in Massachusetts. Paul has been a djembe drummer for eight years with a Massachusetts based African dance and drum ensemble and since moving to Sedona plays in the valley plays various drum, conga and percussions gigs.
Bruce Wandmayer
Bruce has been playing music longer than he'd care to admit. He's played with the greats and the not-so-great. All over the United States, Canada, Mexico, Hawaii, The Caribbean, Europe, North Africa, Western Asia and Eastern Asia. And a few places that shall remain unnamed. He's looking forward to the Motown Review show in a big way. His lawyer has assured him that the ankle bracelet should be off by then, so it's full steam ahead!
Kris Baldwin
You don't know me, I'm the opening act...however Herman's Hermits did open for my band SkyDrive once upon a time. Those glory days have mellowed with the passing of time and now I am happily engaged as a bass side man for many players in my musical circles both here in Arizona and back in Canada. I enjoy writing original tunes and performing many styles of local music from the acoustic folk sounds of Loose Change to the blues renditions of the Salt Miners as well as supporting open mic players in the Verde Valley. CopperDogMusic.com – Have Bass Will Travel.
Kathi Bellucci
A lifelong musician, Kathi's professional career began after she earned degrees in music. Classically trained in voice and piano, she worked onstage in opera, concert and musical theater. During this time she developed a love for private teaching and has been a popular technical trainer and vocal coach ever since. Since relocating to the Verde Valley from NY, Kathi has been exploring diverse ways to reach others through music. With a variety of musical styles as wide as her vocal range, she will entertain with something for everyone.
About Camp Verde Community Library
At Camp Verde Community Library, we connect people of all ages and walks of life to the expanding world of information, ideas, and creative experiences through free and equitable access to library resources. The physical library is located just off Montezuma Castle Highway at 130 Black Bridge Road, Camp Verde. Find the library online at campverde.az.gov/cvcl. For more information about this or any other library program give us a call at 928-554-8380