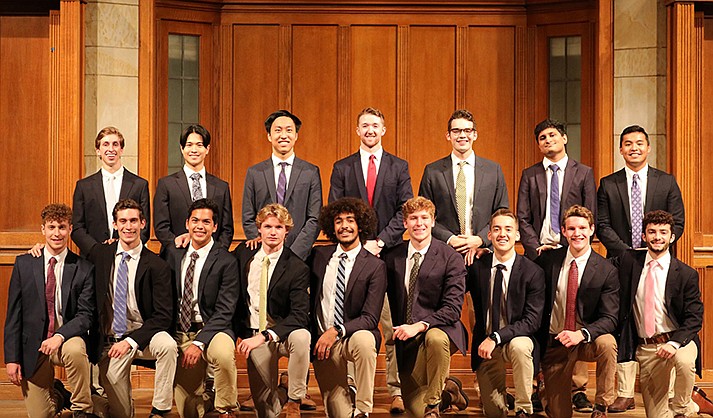 ---
---
The Baker's Dozen of Yale, one of Yale's most well-known a cappella groups, is coming to Sedona on their annual Winter Tour for a show-stopping performance at the Mary D. Fisher Theater on Saturday, Jan. 7 at 4 p.m.
From a cappella classics to rock and pop hits, the "BDs" sing it all with unparalleled charm. For anyone who loves a cappella, this is a performance not to be missed.
Founded in the summer of 1947, 'The Baker's Dozen' of Yale University is among the nation's oldest, finest (and best-looking!) a cappella groups.
From the court of the Capital One Arena in Washington, D.C., to the foothills of Hollywood, and from Yale's frigid northeast campus to sunny Key West and down the West Coast, The Baker's Dozen have brought their music, comedy, and infectious camaraderie to all types of audiences and venues. Members hail not only from New Haven, the group's home base, but also from all over the country, including Arizona, Louisiana, Maryland, and New York.
'The Baker's Dozen' are thrilled to perform at the Mary D. Fisher Theater in Sedona as part of their annual tour, which will also include performances in Albuquerque, Phoenix, Joshua Tree, San Diego, and Los Angeles.
To learn more about 'The Baker's Dozen', support their work, or get in touch, please visit BakersDozenYale.com or listen to their music on Spotify at ShortURL.at/ijoWZ.
Tickets to the show are $25. For tickets and more information, please call 928-282-1177 or visit SedonaFilmFestival.org. Both the theatre and film festival office are located at 2030 W. Hwy. 89A, in West Sedona.