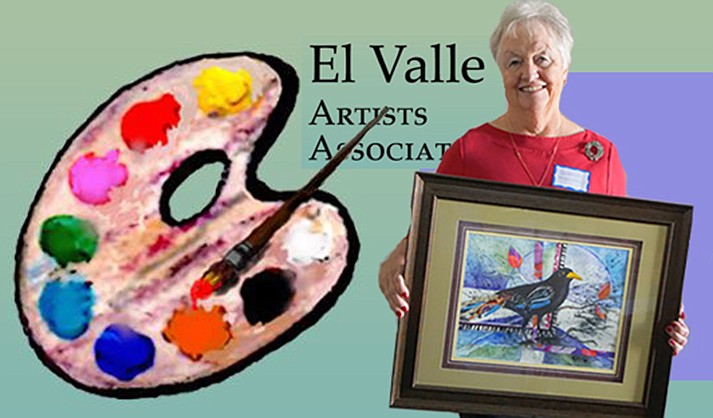 ---
---
The El Valle Art Association's Artist of the Month for December 2022 was Barbara Hagerman.  Her piece is an example of watercolor, charcoal pour and collage.  Hagerman loves blending techniques to surprise her viewers! 
Barbara Hagerman has been a resident of Sedona since 2012.  Shortly after moving here with her husband Jack from Michigan, she soon learned of local artist, Mark Vranesh, who was giving watercolor classes in her community. This sparked her interest since she had painted for years in oils, acrylics, and tole painting.
She sought out and joined the Northern Arizona Watercolor Society in 2013 and became a juried member in 2016. Still wanting to expand her knowledge and skills she joined El Valle Art Association (EVAA) of Cottonwood/Verde Valley in 2021. Hagerman enjoys the EVAA as it includes all forms of art media including watercolor and is much more diverse in terms of artists. 
EVAA always welcomes new members!  If you are a local artist (all visual media) and are interested in meeting other enthusiastic and informative artists, please consider attending the next EVAA meeting on Jan. 12.  Meetings offer opportunities to network with other local artists, view demonstrations and participate in workshops and shows throughout the year.  
Meetings are held on the second Thursday of each month, Sept. through May from 1 p.m. to 3 p.m. at the Mountain View United Methodist Church located at 901 S 12th St.  For more information please visit the website at ElValleArtist.org.