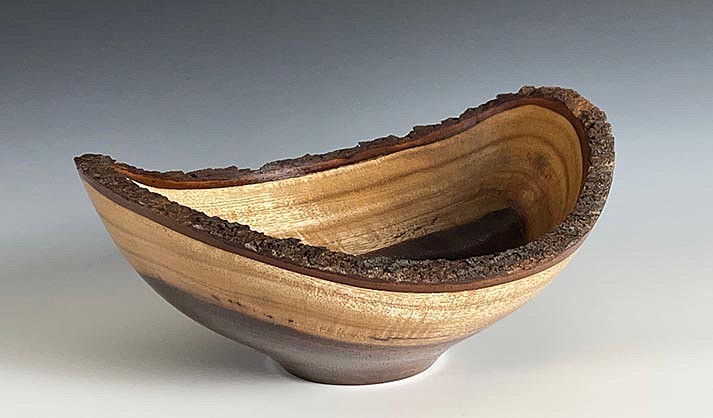 ---
---
The Jerome Artists Cooperative Gallery is pleased to present an All-Member show, 'New Work & New Artists,' hailing the New Year and welcoming new members!
As a self-taught artist, Cathy Knisley enjoys exploring different painting techniques. After discovering "Abstract Cellism," an art form using fluid acrylics, she expanded into experimenting with other abstract fluid arts, such as alcohol inks and watercolor. All these feature experimental and contemporary design.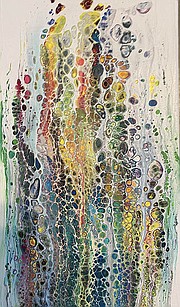 Visualization and interpretation evoke diverse feelings, and Cathy's work invites the viewer to take a step back and contemplate, while connecting with the composition. The viewer's own imagination and perceptions are engaged.
Wood turner Keith Knisley has refined his skills and designs over many years. His bowls and platters are turned from a variety of reclaimed trees that have been downed as a result of storms, utility clearing, fire control, and so forth. His pieces incorporate a variety of designs and finishes which complement and enhance the appearance and texture of the wood grain.
Keith's finial ornaments, boxes, bowls, and wine or whiskey stoppers incorporate both domestic and exotic woods with a smooth, durable finish. Finishes are selected to enhance the artistry, wood grain textures, utility, and durability of his turnings.
Maryhelen Ewing wanted to be an artist since childhood, but her parallel interest in music guided her steps to The Juilliard School of Music in New York City. There, she "practiced her way to Carnegie Hall," she exclaims! Many years later, after many part-time gigs and jobs in several orchestras in the Big Apple, Maryhelen said, "I couldn't deny my love of art any longer!"
Maryhelen currently works in oils with figurative, still life and landscapes as subjects.
Bob Shuman "hangs out on the edge." It could be the edge of the Grand Canyon, but also the cutting edge of what is possible in landscape photography. As a passionate believer in the power of landscape photography, Bob believes photography can not only please the eye, but can instill a deep reverence for Nature and the environment in his viewers.
Sid Freeman is a watercolor calligraphy artist. She dives deeply into the meaning of words. "I call this painting, 'Spoken' "she says, "because even when we speak the same language, subtle nuances can be easily missed!"
Judy Jaaskelainen delights in the warmth of the colors of the Southwest. As a watercolor artist, Judy mentioned, "While visiting Silver City, New Mexico, on a snowy winter day, I came upon this rustic gate and old adobe walls adorned with a bright red chili ristra. I loved seeing the textures and blends of earth tones with the chilies in the snowy setting."
Meet our new artists and greet our old friends during Jerome's First Saturday art walk, Jan. 7, from 5 to 8 p.m. at the Jerome Artists Cooperative Gallery. Refreshments and snacks will be provided. The show runs Jan. 1- Jan. 31. The gallery is open daily except Tuesdays from 10 a.m. to 6 p.m. For more information, call 928-639-4276, visit JeromeCoOp.com, or email Info@JeromeCoOp.com.