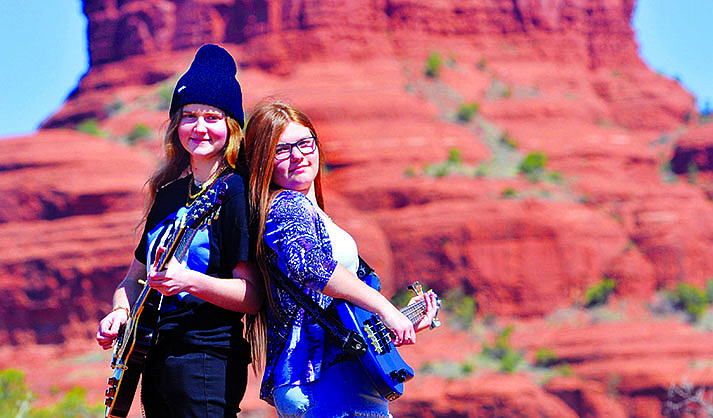 ---
---
Don't miss Sedona's multi-instrumentalist sister duo Kaleidoscope Redrocks take the Pavilion stage at Posse Grounds Park on Saturday, Jan. 14 from 3 to 3:30 p.m. as part of the City's first Winter Play Day showcasing local youth performances among other family-friendly fun attractions and activities.
"Since moving from Phoenix in Feb., 2018, it has been one of our biggest goals to play at the beautiful Pavilion stage," shared Gracie, 17 and Tivona, 13, "and we are very grateful to Lynette, City of Sedona Parks & Recreation Coordinator, for reaching out and inviting us." 
Gracie and Tivona Moskoff, KR, have been performing around Sedona, the Verde Valley, Cave Creek and Flagstaff over these last five years and will be releasing their first CD in the coming months. They currently have two singles streaming on all music platforms.
So their 30 minute set on Saturday, Jan. 14, 3 to 3:30 p.m. will include two originals from their upcoming CD called Whisperz sandwiched between covers by some favorite bands like, the Eagles, CSNY, The WHO, Beatles, Pink Floyd and Bruno Mars.
"We are so excited for this show!  Even though it's short, we will make it sweet with each of us playing acoustic & electric guitars, drums and piano creating a full band sound," exclaim the ladies.
So, bundle up for this snow or shine outdoor event located at 525 Posse Ground Rd. in Sedona on Saturday, Jan. 14 from 11 a.m. to 4 p.m.