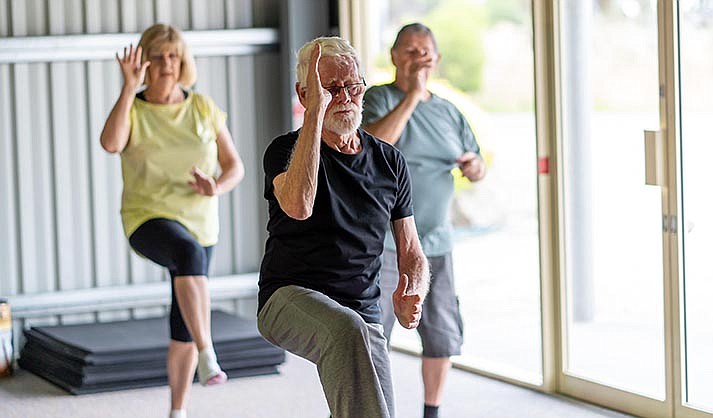 ---
---
Join Carla from Yavapai County Community Health Services in Camp Verde Community Library's Terracotta Room at 1 p.m. on Tuesday, Jan. 17 for the first in a series of eight weekly Tai Chi classes.
Tai chi is an ancient Chinese tradition that, today, is practiced as a graceful form of exercise. It involves a series of movements performed in a slow, focused manner and accompanied by deep breathing.  Tai chi is low impact and puts minimal stress on muscles and joints, making it generally safe for all ages and fitness levels. In fact, because tai chi is a low-impact exercise, it may be especially suitable if you're an older adult who otherwise may not exercise.
Tai Chi for Health is designed to improve balance, relieve pain, build confidence, and improve the quality of life!  Each session includes warmups, learning one to two forms, and cool-downs. The class continues weekly on Tuesdays at 1 p.m. for eight weeks ending on Tuesday, Mar. 7.  Class is limited to the first 20 participants. Please call Carla Hover from Yavapai County Community Health Services at 928-442-5966 for more information and to register for the class.
Camp Verde Community Library is located just off of Montezuma Castle Highway at 130 Black Bridge Road. For more information about this or any other library program, visit the library's website at CVLibrary.org or call 928-554-8391.