Out of Africa founder Dean Harrison dies
Originally Published: January 14, 2023 12:31 p.m.
CAMP VERDE – Out of Africa Wildlife Park has announced the death of founder and co-owner Dean Harrison.
According to Ashton Powell, spokesperson for the park, Harrison died Sunday, Jan. 8, at the age of 75. His wife Prayeri Harrison and other family members were with him as he passed. The cause of death was given as liver cancer, which was diagnosed on a week and half prior.
"Remember Dean as he was - full of light and love. Although he is not with us now, he will be watching from above," Prayeri Harrison stated in the announcement.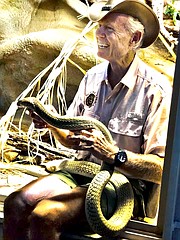 The Harrisons moved Out of Africa to Camp Verde in 2005 on property that has now grown to more than 100 acres and includes nearly 100 species of animals.
The park provided the following regarding the legacy of Dean Harrison:
"His passion for Christ was undeniable and his abundant love of fellow humans is apparent in every word he spoke. Even the animals knew his heart and were drawn to him. Dean spoke with the creatures on their own level and understood their needs and desires by looking through their eyes instead of through a human's eyes.
"Thousands of people can attest that they have watched this communication in action at Out of Africa Wildlife Park which he founded in 1988 with his wife, Prayeri. After 35 years in Arizona, this sanctuary has brought an understanding of the wild and of how it relates to all of God's Creation.
"Dean Harrison was a one-of-a-kind person. His permanent smile and knack for making people laugh were unparalleled. His continual guidance of others towards God has rewarded him with abundant blessings throughout his life - which in turn blessed other people and animals around him. Through the animals, instincts, and laws of nature, he was able to teach people about themselves.
"His number ONE priority was becoming the person God himself could TRUST to carry out His Will. This gentle servant has now gone to be with our Heavenly Father. The world is blessed to have had such an incredible individual here for all of his 75 years. We will forever be grateful to God for allowing this 'teacher' to have been part of our lives.
"Dean often said, 'The best lives are lived through love (and not fear).' He also said to his daughter, Liana Harrison, 'Dreams do come true, in The Lord.'
"A Celebration of Life Memorial will be open to the public on Saturday, Feb. 25, at 5 p.m. It will be held at Out of Africa Wildlife Park at the Tiger Splash Arena. Please use the GPS address 3505 W SR-260, Camp Verde, AZ 86322. The Park will be closed at 4 p.m. to regular visitors and then will be allowing attendees of the memorial into the Park at 4:30 p.m. Attendees are welcome to visit the whole park for the day at standard admission prices.
"In lieu of flowers, or gifts we ask that donations be made for the continued support of the animals. Please send all correspondence to our mailing address 4020 N Cherry Road, Camp Verde, AZ 86322 or contributions can be made by calling 928-567-2840.
"All of us at Out of Africa Wildlife Park want to thank each of you for the love and support you have given us. Without your visits, we would not be able to share these incredible animals with you."
---
SUBMIT FEEDBACK
Click Below to: