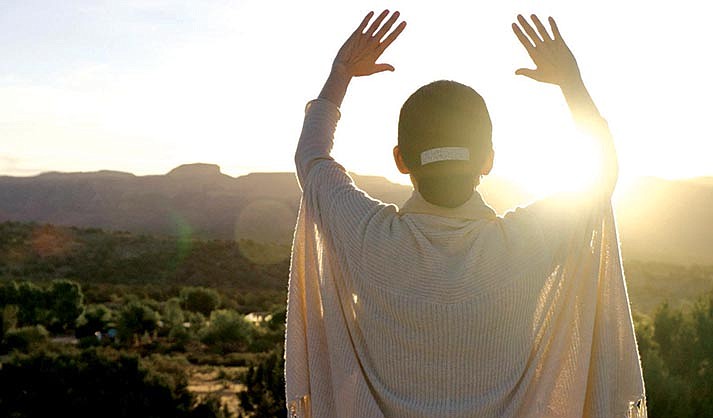 ---
---
On Monday, Jan. 23, the Illuminate Film Festival hosts its first Virtual Movie Night of 2023, screening the inspirational documentary 'Love Heals.'

Illuminate's Virtual Movie Nights have been a huge hit, where audiences watch a selected film online together while they communicate in an optional 'live online chat', and then connect 'face-to-face' in a Zoom room after the film to share their experience, dive into the film's themes and chat with the filmmakers.
'Love Heals' follows the journey of Dana, a Sedona resident. Her suffering from two failed spinal surgeries starts her on a healing journey. Her travels take her across the country as she explores an ancient energy principle. How has it helped so many heal? Why does it work? Dana discovers that powerful transformations are possible when people suffering from chronic conditions connect to themselves, heal their past traumas, and balance their energy. Along the way, we meet a combination of experts, energy healers, master trainers, and everyday people struggling with chronic pain.
The film balances the research of acclaimed scientists such as Dr. Bruce Lipton with the wisdom of globally-renowned energy healers. 'Love Heals' is based on the book, 'Water Up Fire Down: An Energy Principle for Creating Calmness, Clarity and a Lifetime of Health,' a NY Times best-seller. 'Water Up, Fire Down' refers to a balanced energy flow in your body. When you have that flow, you awaken to a life with a clear mind, an open heart, and more power.
The post-screening discussion will feature director Krisanna Sexton and producer Dana Croschere.
'Love Heals' will screen on Monday, Jan. 23 at 6:30 p.m. followed by the Post-Screening Filmmaker Q&A and Community Conversation at 8 p.m. The movie can be viewed online in Illuminate's Virtual Screening Room at Illuminate.watch or on Apple TV or Roku. The film and conversation will be recorded and available on-demand through Sunday, Jan. 29 at 11:59 p.m. Tickets ($12) can be purchased at Illuminate.watch.
For more information, visit IlluminateFilmFestival.com.