---
---
Back by popular demand is a painting critique by beloved local artist Betty Carr.
Her professional advice on members' finished and near-finished paintings is always kind, humorous and insightful. While the paintings being critiqued are watercolor, the design concepts discussed apply to all 2-dimensional art forms. This critique is on Friday Jan 27 at 9 a.m., at the Sedona United Methodist Church on 110 Indian Cliffs Rd. in Sedona. The program is sponsored by the Northern Arizona Watercolor Society (NAWS), a regional non-profit watermedia art association with members from Flagstaff to Prescott.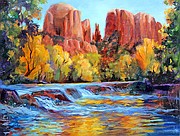 Betty Carr is an international award-winning artist, teacher, juror and author. She knows what makes a good painting. Most paintings, in her opinion, just need a nudge in the right direction and she is adept at spotting a good painting that just needs a bit of improvement. This critique is just one example of her ongoing support of local arts organizations via her popular workshops, demonstrations, critiques, and friendly mentoring.
 In her own painting, Betty's use of color, light and shadow accentuate her subject matter while showing her love of nature and its forms. In the local art scene, her painting 'Verde Valley Overlook in Autumn' won the Epic Artist Award at the Prescott Plein Air Festival. At the national level, 'Peonies in Morning Light' was recently featured in an American Impressionists Society exhibition.
Founded in 1995, NAWS has about 150 members who meet monthly to celebrate watermedia painting. These meetings typically feature informative learning topics and artist demonstrations. Additional membership benefits include access to exceptional quality workshops, participation in smaller critique groups and an extensive DVD loan library of painting technique videos. 
NAWS welcomes visitors to its monthly meetings. For more information about NAWS, please visit NAWS-AZ.org or email your NAWS-related questions to NAWSMembershipJoy@gmail.com.