Obituary: Mary Katherine Bruce
Originally Published: January 22, 2023 1:21 a.m.
Mary Katherine McDonald Lovell Bruce
1925 - 2023
Mary Katherine McDonald Lovell Bruce was born across the river in Camp Verde, Arizona on July 17, 1925 to Benjamin Everett McDonald and Ora Lee Sullivan. She was a blue baby and spent her first hours in her grandmother's oven. She always said she was a miracle as she lived a full life, outliving two husbands in her 97-1/2 year life. Mary passed quietly in her sleep early on January 14, 2023.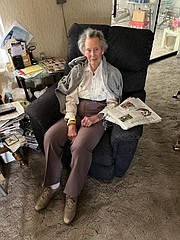 Mary spent her early years in the Verde attending kindergarten and first grade at the Clemenceau School, second through tenth grades in Camp Verde and completing eleventh and twelfth grades graduating in the class of 1944 from Clarkdale High School. She was always active as an athlete and was an avid basketball player. In 1944 the family moved to Vallejo, California so that her father could work in the Mare Island Shipyards. During this time, she met a young sailor who had returned from duty in the Pacific Theater of World War II. After a three-month courtship she married Bill Lovell in Flagstaff on September 18, 1945 having moved back to the Verde Valley after the war ended in August. Their son Walter Benjamin was born in Cottonwood in January of 1947.
Mary and Bill lived in Cotton-wood during 1947 then moved to South-eastern Minnesota where Bill worked assorted jobs on farms and as a brakeman for the railroad in the towns of Slayton, Pipestone, Fulda and Tracy. The frigid winters convinced them to move to Southern California to be closer to family by mid-1948 where they lived with Mary's grandparents. Living in Norwalk and Whittier they moved back to the Verde Valley to Clarkdale in January of 1959. They remained in Clarkdale only long enough to have a home built in Cottonwood Heights where they remained until January of 1966. At that time they moved for work-related reasons to Phoenix. Bill passed in 1990.
Mary and Lyman Bruce were married in Bullhead City, Arizona on September 10, 1990 and took up residence in Rimrock, Arizona. She lost Lyman in 2004 after many happy years of travel, watching sports, trips to Laughlin and enjoying family. With the marriage to Lyman she added two sons, Bob and Ron, to her immediate family to go with her son "Ben" (Walt), six grandchildren, 20+ great-grandchildren and 15+ great-great-grandchildren.
While Ben was in high school she avidly followed his many curricular and co-curricular activities. She was independent, a bit stubborn, supportive of family and others. She renewed her drivers license at 97 and never expected others to provide for her. A true partner to both her husbands she was a model for the western wife, mother and grandmother.
Invariably if you came to visit there was talk, laughter and TV. A discussion of the Diamond Backs in the summer, the Phoenix Suns in winter and the National Finals Rodeo or Bull riding.
A graveside service was held Friday, January 20 at Clear Creek Cemetery in Camp Verde.
An online guestbook is available at westcottfuneralhome.com

Information provided by the funeral home.
---
-
SUBMIT FEEDBACK
Click Below to: