---
---
Eyes are said to be the window to our souls. This is true for animals, as well.
June Payne Hart says this is the reason she starts an animal portrait painting with the eyes, which hold the beauty of the creature for all to look into their soul and view the gentleness.
Hart is the featured artist at the Village Gallery of Local Artists, 6512 Arizona SR 179, Village of Oak Creek.
Hart sees animals as gentle souls where those who do not feel a connection with animals may fear them. Having this connection allows her to paint them with love and care most do not experience. This love can be felt by those viewing the art and inspires them to enjoy viewing it every day.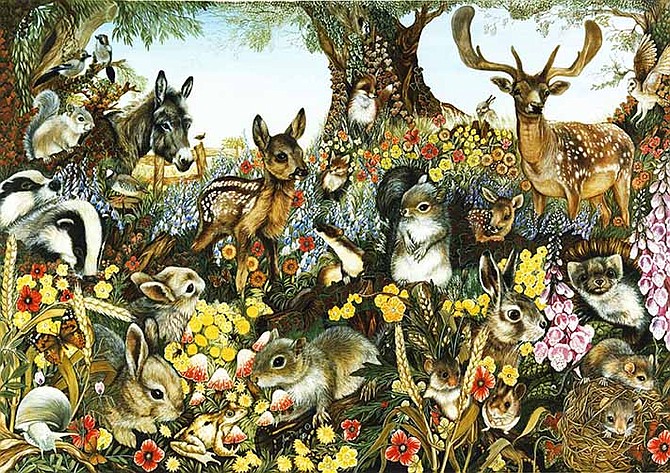 An English wildlife artist, Hart was once scolded for her artistic endeavors when, at the age of 3, she literally painted the family cat with thick green paint. A few years later, she was the youngest student to be accepted to study art at the Birmingham College of Art in her native England. After graduating with honors, she worked as a design consultant for Harrods of London and as chief designer for Accord Greeting Cards worldwide.
Hart also traveled throughout Europe to study art and nature. Inspired by the English 18th and 19th century artists, she launched her own art career. Her love for nature and all God's creatures moved her to paint these subjects. The artist's move to Arizona in 1980 inspired her anew. She fell in love with the beauty of the Southwest, spending hours sketching desert wildlife.
She even conquered her fear of spiders when she rescued an injured tarantula and nursed it back to health. Spider webs now may be hidden in her paintings as a trademark. Customers enjoy searching and finding this unique item in her paintings while viewing them at the Village Gallery of Local Artists.
The more she became involved in animal rescue, the more she became aware of how many of God's beautiful creatures were facing extinction in our planet's fragile environment. Through her art Hart tries to impart a concern for all living creatures. She portrays the gentle side of her animals, joking that all her animals are vegetarians. Occasionally, she places them in mystical landscapes, living in peace and harmony with one another and mankind. Their gentleness can be seen in their eyes.
To her initial medium of "gouache" (opaque watercolor) she has added acrylic, scratchboard watercolor and collage; she is now adding oil. She has received many awards for her work in England, Europe and the United States. Her paintings are often sold prior to completion and hang in private collections worldwide, including the British Royal Family. She won first place for her painting, "Boot Camp," which depicts cats with western boots.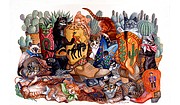 Much of her work helps raise funds for animal rescue and humane societies throughout the United States, including her widely known "A Dog's Plea" and "A Cat's Life." You will frequently find her artwork in greeting cards, cross-stitch, puzzles, collector plates, fabric design and various other products.
"My desire has always been to reveal to others the beauty of God's creation using the gift God has given me," stated Hart.
For more information, contact the Village Gallery at 928-284-1416 or visit SedonaLocalArtists.com.