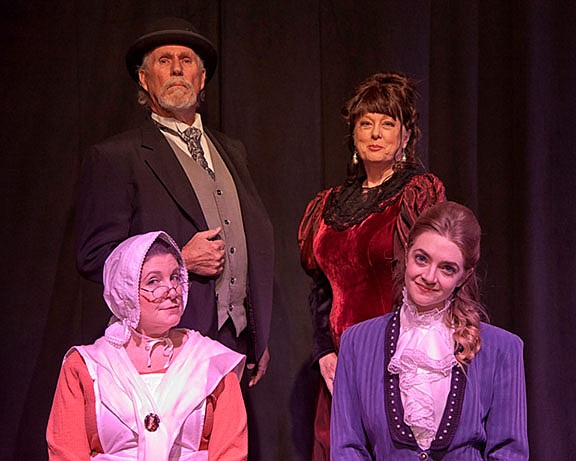 ---
---
Theatrikos brings the most frequently licensed show of 2019 to the Flagstaff stage: "A Doll's House, Part 2," running Jan. 27 to Feb. 12, 2023.
"There's no need to have seen the original to enjoy Part 2," said executive director Chris Verrill. "This show stands on its own."
In Lucas Hnath's sequel to Henrick Ibsen's original A Doll's House, Nora has returned! Part 2 explores, in uproarious fashion, the emotional chaos that results when Nora is launched back into a household she helped burn to the ground 15 years earlier. Nominated for eight Tony Awards.

"The original Doll's House by Henrik Ibsen is a classic, and Ibsen is considered as one of the fathers of Modern Drama. It is required reading for all who are interested in Modern Theatre. It is not necessary to have read the 1879 Doll's House (Ibsen) play in order to enjoy A Doll's House, Part 2 as it is from the imagination of the playwright, Lucas Hnath," said director Robert Yowell. Yowell is a recently retired NAU theatre professor.

Flagstaff theatre veterans Linda Sutera and Tony Sutera, married in real life, play Nora and her husband Torvald.
"We have always enjoyed playing opposite each other in theatre productions. We have each been in over 35 main stage plays and this will be the 11th time that we have played either husband and wife or significant other. We love exploring together the depths of human relationships and comparing them to our own experience of 35 years of marriage," said Linda Sutera.

Tony Sutera added, "We hope audiences will enjoy the humor and irony presented in this universal struggle between human freedom and societal norms. Nora's story brings to light the timeless human need to create our own destiny in a way that every adult can relate to."
Masks are recommended for all performances. Masks and proof of vaccination required for one performance only on Jan. 29 at 2 p.m. Except on that first Sunday matinee, we are following Broadway League's example and are strongly encouraging masks—but not requiring masks. Concessions are open, except on that first Sunday.

Performances of A Doll's House, Part 2 are at Theatrikos, Jan. 27 to Feb. 12, 2023, Fridays and Saturdays at 7:30 p.m. and Sundays at 2 p.m. Our new parking lot is available for patrons at the NE corner of Cherry and Leroux.

Tickets can be purchased online at Theatrikos.com, by calling 928-774-1662, or by visiting the theatre's box office, which is open from noon to 6 p.m. Mondays, Wednesdays, and Fridays and two hours prior to each performance.